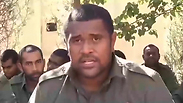 The IDF spokesperson confirmed Thursday afternoon that the 45 Fijian peacekeepers that had been captured by al-Nusra Front rebels in the Syrian Golan had been released and crossed into Israel safely.

The militant group, which seized the UN troops as it pushed back the Syrian Army along Israel's norther border, posted a video earlier in which the hostages, said that they expect to be released soon.

The video, which was posted on the al-Nusra Front's Twitter and YouTube accounts on Wednesday but was apparently recorded a day earlier, appeared to show the troops in a good condition, at points smiling and waving at the camera.

On Wednesday, the head of Fiji's army said the Islamist militant group had dropped all of its demands to free the hostages, but at least slightly back-pedaled later in the day as the situation appeared to deteriorate.

It was unclear whether the video, carried by the SITE monitoring service, was made before or after the confusion surrounding those comments, but a UN source earlier told Reuters that the militants had insisted on such a video as a condition for their release.

Related stories:

"By the way, we are all safe and alive, and we thank Jabhat al-Nusra for keeping us safe and keeping us alive. I'd like to assure you that we have not been harmed in any way," one hostage, who was not identified, said, using the al-Nusra Front's full name.

"We understand that with the limited resources that they have, they have provided the best for us and we truly appreciate it and we thank them. We are thankful that Jabhat al-Nusra has kept its word and that we will be going home."

Video released by al-Nusra Front.

Syria's three-year civil war reached the frontier with Israeli-controlled territory last month when Islamist fighters overran a crossing point in the line that has separated Israelis from Syrians in the Golan Heights since a 1973 war.

The fighters then turned on the UN blue helmets from a peacekeeping force that has patrolled the ceasefire line for 40 years. After the Fijians were captured, more than 70 Filipinos spent two days besieged at two locations before reaching safety.

The Nusra Front had demanded compensation for fighters killed during the confrontation, humanitarian assistance for its supporters and its removal from the UN list of terrorist organizations.

Since independence from Britain in 1970, Fiji has sent more soldiers on UN peacekeeping missions than any other nation, on a per capita basis, which provides its stalled economy with much-needed hard currency and helps to bolster its global image.