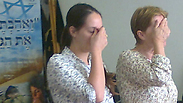 'What will our state look like if world rabbis stop recognizing conversions from Israel?'
Photo: Ami Conversion Studios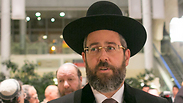 Ashkenazi Chief Rabbi David Lau
Photo: Ohad Zwigenberg
Senior rabbis in Britain are warning that they will not recognize conversions performed in Israel, if the state gives every city rabbi the authority to convert people to Judaism.

The move's opponents, led by Israel's chief rabbis, are seeking to increase the pressure on Prime Minister Benjamin Netanyahu in a bid to prevent the conversion law initiated by Knesset Member Elazar Stern of Hatnua faction.

A Convert's Diary

The more I knew about Judaism, the greater my desire to convert. I understood the process would produce significant spiritual benefits in my life, but the rabbinical court demeaned my husband and demanded that I cut off ties with secular friends.

Following the disagreement over the bill within the coalition, Netanyahu plans to bring the issue to the cabinet meeting next week as a government decision, thereby avoiding legislation. But the ultra-Orthodox parties and conservative circles within the Religious Zionism movement with to thwart that move too, and have now gained support overseas.

Ashkenazi Chief Rabbi David Lau visited Britain this week to discuss the crisis with the participants of a rabbinical conference in London. Following what he heard from the rabbis, he warned against a rift between Israel and Jewish communities around the world.

According to Rabbi Lau, the leaders of the London Beth Din had told him that they would not be able to recognize official conversion certificates from Israel.

"The world's rabbis always believed that the State of Israel would protect this important and sensitive issue of conversion more than any other state," Rabbi Lau said. "They never believed that they would have to consider whether to recognize conversion certificates arriving from Israel."
'Government taking a very dangerous step'
The chief rabbi was asked to relay a message from three senior religious judges – Rabbi Chanoch Ehrentreu, Rabbi Aharon Yitzchok Binstock and Rabbi Menachem Gelley – that they "deeply fear and are extremely concerned" by MK Stern's proposal.

"They expressed their shock over the expropriation of responsibility for conversions from Israel's Chief Rabbinate," he said.

Rabbi Lau has turned to the prime minister together with Sephardic Chief Rabbi Yitzhak Yosef, demanding that the move be stopped. He says he has heard similar reactions from rabbis in other countries, and he understands them.

"The government is taking a very dangerous move here," he said. "We are headed towards a dangerous and irresponsible direction for the State of Israel's Jewish future.

"What will our state look like if world rabbis announce that they will stop recognizing conversions from Israel?" he asked. "Is this the government's goal? To make things difficult for the converts? Why that's exactly what will happen. These conversions will not be recognize.

Rabbi Lau concluded by stating that just like significant moves are not led without being coordinated with the relevant ministries, the conversion issue cannot be advanced without the Chief Rabbinate's consent and while ignoring its halachic opinion.