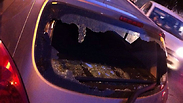 A family from Ramat Gan narrowly escaped a lynch attempt on Thursday evening when they made a wrong turn and entered the East Jerusalem neighborhood of Wadi Joz, where rioters threw a volley of rocks and bricks at the vehicle they were travelling in.
The family had been on their way to a swearing-in ceremony of the Golani Brigade at the Western Wall in Jerusalem.
Fortunately, the father was the only one to sustain injuries, which were minor. This past week, riots have been taking place in the Arab neighborhood after residents heard that a local youth had died of wounds suffered in a clash with Israeli police last week.
"I'm still in shock from the experience we just had, we were almost lynched," Eti, the mother of the Cohen family said in tears on Friday, speaking with Ynet.
"We were miraculously saved. I woke up this morning and the first thing I did was cry hysterically, not believing that we're home and that we're fine. I saw the pictures and couldn't believe we were there and that it happened to us," she added.
"We arrived at the area of the Western Wall at around 6:15 pm. Since we're not from Jerusalem, we used a navigation system that told us to take a right – so we turned right. We were fine for the first few seconds. My daughter served in intelligence, and she reads and speaks Arabic," the mother explained.
"Suddenly she said 'that's funny, everything is in Arabic,' and then I started to panic. We were on a narrow street and people began looking at us with faces that read 'why did you come here? What are you doing here?' I then told my family 'we're not supposed to be here.' My daughter who was driving the car became nervous and we decided to try to leave quietly'.
However, the Cohen family seemed to have inadvertently driven into a pre-planned ambush. "There were two vehicles driving in front of us. Suddenly, a boy of about 12 years of age approached the window of my husband, who sat on the left side.
"I told my husband 'don't open the window,' and the boy began to knock on the window while we were driving," Cohen recounted the frightful moments of the attack.
"My husband opened the window and at the same moment we heard shouts on the street," she added, explaining that they had then noticed that three cars were blocking their movement.
"They just stopped for no apparent reason and then the bricks started flying. The first one hit the windshield and shattered it – it was a shock. I couldn't believe this was happening to us."
"Then, another rock broke through the window of my husband who was sitting behind my daughter who was driving, and hit him in the face. A third brick went through the broken rear windshield and hit the headrest of my son's friend who had joined us."
The family's quick thinking helped them escape what could have been a much more serious incident. "My daughter initially put the car in parking position, but then she came out of her shock, stepped on the gas pedal, and drove on the sidewalk to pass the cars that had blocked the road. She was driving on the sidewalk while I was with the police on the line, simply screaming."
"Everyone in the car was screaming. We felt fear. I told the police operator that we don't know where we are or how we get out of here."
Cohen added that after telling the operator the name of the street where they were on, she had warned them not to drive through it because it was dangerous. "I just prayed to see something Jewish; an officer who then took the call told us to drive through the valley, and after a few minutes we saw Border Police officers."
Sharing her feelings earlier Friday morning, Cohen stated that the event ended in a miracle. "The car is smashed, but that's alright as long as we are in one piece. My daughter is suffering terrible trauma. My husband is a little wounded in the face but it will pass in a day or two.
"I look at my children and say thank you that that they are here with me," Cohen said. "It's important for me to warn people not to enter the area. The GPS just takes you there, so people have to be careful."
Commenting on the incident, police said that troops and patrols will be reinforced at East Jerusalem main roads, adding that its forces are working towards locating and arresting the rioters.