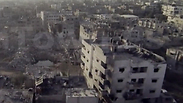 Fifty days of war in one of the most densely populated parts of the world have left swathes of Gaza in ruins. With the economy reeling under an Israeli-Egyptian blockade, the enclave now faces an almost impossible task of rebuilding.

To do it, Gaza will have to find billions of foreign dollars, contend with Israeli limits on construction materials entering the territory, resolve internal political strife and keep aid flowing to the battered population as it rebuilds.

One fact stands out: before the war, an average of 30 tons of cement crossed into Gaza each week. Now, an estimated 10,000 tons will be needed every day for the next six months.

In Shejaia, a town near the border hit by heavy Israeli shelling in the war, many homes and factories lie in ruins amid mounds of broken bricks and rubbish festering in the heat.

Related stories:

"Some of the areas here in Gaza, unbelievably enough, look as if they were hit by an earthquake," said Borge Brende, the foreign minister of Norway, who visited the area this week to try to assess the humanitarian and reconstruction needs.

The Palestinian Authority said in a study last week the work would cost $7.8 billion, two and a half times Gaza's gross domestic product, including $2.5 billion for the reconstruction of homes and $250 million for energy.

Gaza economist Maher al-Tabbaa puts rebuilding costs at a lower $5 billion. Either way, international donors meeting in Cairo on Oct. 12 for a rebuilding conference - including the EU, Turkey and Qatar - know one thing: it will be expensive.

"I can't tell you exactly what the figure is," said John Gatt-Rutter, the EU's representative for the West Bank and Gaza.

"All I can tell you is that the needs are huge and that I don't know where anyone's actually going to find the money."

An estimated 18,000 homes, at least three 14-story apartment buildings, roads, schools, bridges, clinics need to be rebuilt but perhaps the most important job is fixing the power plant. Running at less than 50 percent of capacity before the war, it is now at just 6 percent of its potential output.

That has a knock-on impact on water and sewerage, since the treatment plants require power and desalinating water draws vast amounts of energy from the grid.

Rubble removal alone could cost $18 million, while Gaza also needs money for food aid, medicines, education materials and agricultural development.

The 1.8 million population - growing at around 50,000 people a year - is heavily dependent on aid from international donors, and without a marked step-up in growth, the unemployment rate is unlikely to dip much below its current 40 percent.
Israeli cement
As well as the homes destroyed, Palestinian Housing Minister Mufeed al-Hasyna says a further 40,000 were severely damaged, alongside 200 mosques either damaged or destroyed.

Besides the painstaking work required to rehabilitate damaged holy places and old buildings, there is a need for raw materials - cement, iron rods, wooden beams, corrugated steel, panes of glass and construction equipment.

For years, most cement used in Gaza has been bought from Israel's sole manufacturer, Nesher, which controls about 85 percent of the Israeli market. While cement can be imported from elsewhere, it is quicker and cheaper to buy it from Israel.

"You will safely need 10,000 tons of cement per day for six months," says al-Tabbaa, the economist, who said there was no other choice than to use the Israeli product, even if Palestinians in Gaza might feel aggrieved that Israeli cement was helping to patch up or rebuild their homes.

Hani Shamaly, who runs a company importing construction materials into Gaza, said Israeli cement was good and quick to import. Yet the bill for grey dust alone is likely to exceed $100 million, money that will likely to flow to Nesher.

Gaza, wedged between Israel and Egypt, has been under an Israeli blockade since 2007, when Islamist Hamas, devoted to Israel's destruction, seized it from Western-backed Palestinian president Mahmoud Abbas. Egypt also sees Hamas as a security threat and keeps tight restrictions on its own border crossing.

Gaza's neighbors have agreed to ease the blockade, but also want to ensure no weapons are smuggled in and that "dual-use" goods, such as cement and iron, are not being used to rebuild attack tunnels that Hamas constructed from Gaza into Israel.

"Israel is willing to be a full partner in facilitating reconstruction in Gaza, but ... we are talking about civil reconstruction, not allowing Hamas to rebuild its terrorist machine," said an Israeli government official.

Israeli officials in charge of monitoring the borders said they do not mind where the cement comes from, just as long as it is not used to rebuild the tunnel networks.
Political strife
But Gaza's problems are not just with Israel. Palestinian political divisions could present major hurdles, too.

The Palestinian Authority, led by President Mahmoud Abbas of Fatah, is expected to take over the civil administration of Gaza from Hamas, including the borders, a move that will help with monitoring and the flow of goods into the enclave.

Yet relations between Hamas and Fatah are at a low point, with tensions over the payment of salaries to Hamas workers threatening to boil into open conflict.

Unless a meaningful reconciliation can be forged, and quickly, it will not be possible to start the reconstruction.

"Donors who want to deliver aid are awaiting the unity government to assume responsibility in Gaza, construction materials await the unity government to supervise crossings," said Faisal Abu Shahla, a senior Fatah official in Gaza.

"Every component depends on the other."

Gatt-Rutter, the EU representative, who visited Gaza this week to make his own assessment of the damage, said the picture was devastating but emphasized that the most important thing was to get on with rebuilding without delay.

"The level of despair and despondency is very high," he said. "There is a great fear that there could well be a return to the kind of violence we saw over the summer," if the process of rebuilding and delivering aid does not begin soon.