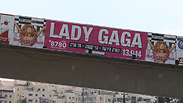 Gaga poster - before
Photo: Amit Shaabi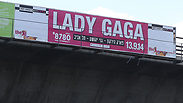 Gaga poster - after
Photo: Amit Shaabi
Posters in Jerusalem promoting Lady Gaga's concert were covered up Friday due to their 'immodesty', after a city council member from the ultra-Orthodox Shas party sent a letter of complaint.
The American singer is set to perform in Tel Aviv on Saturday night as part of the Middle Eastern leg of her artRave tour. In recent years there have been a number of cases in which members of the ultra-Orthodox community covered up or even removed images of woman from public spaces, citing alleged 'immodesty.'
According to Chairman of Shas's Jerusalem faction, Nati Lasri, "it's like putting up a poster supporting a Hamas charity at the Bakum (IDF's main enlistment center)."
The billboards featuring the singer were installed by the "Rapid billboards" company in Jerusalem in an attempt to promote the concert. Recently, the slightly revealing photos hung up near the corner of Begin and Golda Meir streets were covered up with white stickers.
A source in the billboard company said "we are a platform that follows order, we rent advertising space. The photos were covered in light of the customer's instructions. We don't act on our own discretion.
The steps that led to the concealment of the singer's photos are most likely rooted in the letter sent by Lasri to the Director-General of the city's municipality, Amnon Merhav.
Titled "the insensitivity of the billboard" the letter said that the Shas leader was "shocked to wake up to see billboards promoting an abomination which badly hurts the feelings of the majority of Jerusalem's male and female residents."
Expanding on his claim, he said the images could serve as "fuel for radicals who want to ignite the city."
In his letter, Lasri requested that Merhav work immediately to have the signs removed. Friday morning Lasri said "this is a place in which thousands of Haredi people cross daily... My request was very specific and I'm glad that it was answered."
As could be expected, the decision was met with no small number of objections, Rachel Azaria, a senior Jerusalem city council member from the Jerusalemites (Yerushalmim) party, a party dedicated to pluralistic and diverse Jerusalem, responded with anger.
"An investigation we conducted revealed the stickers covering up the posters were put up in wake of pressure from the Haredi community. This community is only 20 percent of Jerusalem's population – they cannot decide on their own how the city's public sphere will look," Azaria said.
Recalling past cases in which images of women were taken down, Azaria said "in 2011, after a public campaign, we managed to get the signs put back up. We will not allow things to go back to the way they were, in which women are excluded from the public sphere."