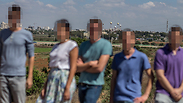 Intel soldiers respond to critics
Photo: Tal Shahar
Intel soldiers respond to critics: Unit's activities go well beyond self defense
After reservists in IDF's top intelligence unit sign letter saying they'll will not report for duty related to occupation, they reiterate decision to stay anonymous, say 'unit's activities in Palestinian arena are an inseparable part of military rule under which Palestinians live.'
The 43 signatories from the IDF's top electronic surveillance unit (8200) who said they would no longer spy on Palestinians living under occupation have responded to the massive wave of criticism their letter inspired. The letter and full interview with the group was first published by Ynet and its sister print publication Yedioth Aharonoth Thursday.

"We do not deny the important role 8200 plays in protecting the citizens of Israel, but years of serving in the unit have proven without a shadow of a doubt that the unit's role in the (occupied) territories extends well beyond self defense, and this goes beyond any specific missions into the unit's core mission.

"The unit's activities in the Palestinian arena are an inseparable part of the military rule under which the Palestinians live, and brings harm to innocents and delays the conflict's resolution."

8200 Letter

In letter sent to PM and chief of staff, 43 officers, soldiers, graduates of the IDF's elite intelligence unit, 8200, say they will no longer report for reserve duty related to the Palestinian arena. 'No one asks himself if the targets we collect for the air force justify ruining the lives of 1.5 million people,' they say.

The protest letter signed was sent to Prime Minister Benjamin Netanyahu and IDF Chief of Staff Lt.-Gen. Benny Gantz Thursday, as well as a number of military intelligence officials.

"There is a perception that service in military intelligence is free of moral dilemmas and only contributes to the reduction of violence and harm to innocent people," the servicemen wrote in the letter. "But during military service we learned that intelligence is an inseparable part of military control in the territories."
'Unit doesn't deal with ethics'
Responding to critics who slammed the group for refusing to make their identities public, the signatures explained that intelligence officials barred them from revealing their identity, but that they had made their opinions and identities known to their commanders.

"We made the choice (to stay publically anonymous) following a long and difficult decision making process. Some of us tried to bring up the issues noted in the letter with our superior commanders, and tried asking questions, but sadly they were met with silence.

"After years of serving in 8200, we know that the unit does not concern itself with issues of morals or ethics. We asked to make ourselves known, but those in charge of information security forbid us from doing so. The letter with our full names was passed on to a number of people in the IDF and unit."

Unit 8200 is the IDF's central intelligence gathering body and the largest unity in the Israeli military. Soldiers in 8200 are responsible for collecting and intercepting signals intelligence (SIGINT) including telephone calls, texts, e-mails and faxes among various populations.