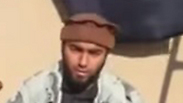 Rabiya Shahade (26) was at the top of his class and a newlywed when he left his home in Nazareth to join rebels fighting in Syria. Now he is feared to be an active member of the Islamic State, the radical group ravaging Syria and Iraq.

Shahade managed to enter Syria a year ago and though he has been out of touch, he has recently sent pictures of himself with arms and near the Islamic State's flag.

In a video circulating in Islamists' websites recently, Shahade can be heard expressing his support of the group, and even saying "we'll win".

Alleged video of Rabiya with Islamic State forces in Syria

Shahade wed only a year ago and left for Syria only four months afterwards, choosing the name Abu Musaav Alsafuri as his nom de guerre. A month and a half ago, when his son was born, he was called Mussav after his father. Now, members of the Rabiya family cannot believe he chose to join the Islamic State, though they refuse to directly comment on his affiliation with the group.
'He had Jewish friends'
One of his close friends told Ynet Saturday that "me and Rabiya students in high school together in Nazareth. He was one of the best students in class and was at the top of all most every subject we learnt; he used to help us all out. Rabiya was a good student and smart friend, good at sports and an all around good guy. Every time we had a problem, he was the first to help.

"He never hurt anyone and even had Jewish friends with who he was in regular contact," the friend concludes surprisingly.


When asked why he thinks his friend joined the radical group, the friend said he himself had asked Rabiya the question but never got a response.

"I managed to get in contact with him through Facebook a number of months ago. He said 'I'm in a village called Albab near Haleb (Aleppo).' I asked him why he joined Daesh (an Arab acronym for the Islamic State), but I didn't get any answer from him."


The friend further said "I'm having a hard time imagining why he chose to go to Syria, he should have stayed in Israel with his family. How can he stand to be away from his son. His family misses him terribly. "

Nazareth is an Arab town containing both Muslims and Christians, and according to the friend "everyone knows that (the Islamic State) murders Christians and still search them out in everyplace they arrive it.

"In 2006, when vandals attacked the Basilica of the Annunciation (in Nazareth) he was one of the few the protected the church."
'A genius'
Before leaving for Syria, Rabiya studied mechanical engineering at a local college. Classmate recall feeling he had a lot on his mind.

"At the beginning of the year we immediately understood he was a genius with a very, very high potential. He always spoke in depth about our school work and his connection with Nazareth."

The friends describe a sudden shift in Rabiya's behavior: "At first he didn't say anything about Syria or (the Islamic State) but after three months there was a shift. He began acting strangely and started sitting alone.

"We felt he was going through something. We tried to help but he refused, saying 'I'm fine.' Then after another month he left without explanation. When we heard he went to Syria we couldn't believe it."