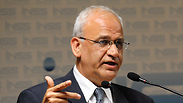 Saeb Erikate
Photo: Kfir Sivan
Palestinian officials in Ramallah are concerned about the decline in the world media's coverage of the Palestinian cause, in light of the shift in international focus towards the establishment of a global coalition against Islamic State terrorist group, Israel Radio reported.
Speaking to the Fatah television channel, Saeb Erekat said on Sunday that the reason behind the extremism in the Middle East was the continued Israeli occupation, the suffering of the Palestinian people and the "terror acts" committed by Israel and the settlers, the report further added.
Meanwhile Adnan Damiri, the official spokesman for the Palestinian Authority's security forces, has urged the United States and Europe to form a coalition against what he called "the terror of the Israeli occupation."
Many Israeli officials have equated Hamas and other Palestinian militant groups with the radical organization currently ravaging Syria and Iraq.
Hamas, Islamic Jihad, Hezbollah, the Nusra Front and ISIS are "all part of the same Islamist terror network that threatens the whole world and must be fought, preferably with joint forces," Prime Minister Benjamin Netanyahu said earlier this month.
Deputy Foreign Minister Tzachi Hanegbi also recently maintained that "there's not much difference between ISIS and Hamas. They are the same branches of the Muslim Brotherhood. They vary in issues of religion but they are not varied in their commitment to destroy the state of Israel, to kill every Jew."
Another comparison of the same kind was previously made by Foreign Minister Avigdor Lieberman. "The Islamic State is like Hamas in terms of its modus operandi; a change is required in the International Criminal Court and in international norms."
"The primary tool of terror groups like ISIS is new media, the internet, Facebook. That is how they recruit new people, how they brainwash them. We must adopt legislation which limits internet service providers and countries which allow use of their platform to distribute the malicious ideology which we have seen in recent days."