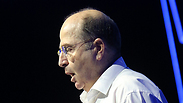 Defense Minister Ya'alon at the 4th annual Cybersecurity Conference
Photo: Motti Kimchi
Defense Minister Moshe Ya'alon defended the defence budget Monday, and also commented on the conscientious objectors' letter, saying he has instructed IDF Chief of Staff Benny Gantz to handle the 8200 unit as criminals.
"Ethical and moral dilemmas are a part of the discussion that needs to happen within the army, but using them for political purposes is unacceptable, it's against the law," Ya'alon said at the International Cybersecurity Conference at Tel Aviv University.
"None of them has served during Operation Protective Edge, so it's obvious this is a political act. The last of the signatories last did reserve duty in 2009."
Ya'alon, himself a former IDF chief of staff, stressed that if a commander or a soldier had any moral questions, they ought to turn to their superiors.
"I know the 8200 unit. The unit's officers and soldiers are doing holy work that has saved many lives," he said.
The battle on the defense budget
Meanwhile, as the battle for the 2015 state budget continued picking up speed, Ya'alon said the defense establishment needed billions of shekels to cover for the expenses of Operation Protective Edge.

"The defense budget has suffered severe cuts in the past two years for political reasons. This isn't about an addition, but righting a wrong and covering the expenses of Protective Edge. It would be irresponsible not to do so," Ya'alon said

"Security costs money, there are no cheap wars. We need more Iron Dome batteries, and other systems," the defense minister said.

The defense ministry is seeking nearly 70 billion shekels ($20 billion) in the 2015 budget, an increase of $3 billion over 2014, as it settles the bills from its Gaza war and draws up plans to confront enemies on other borders.

Having already requested an extra $2.5 billion from the 2014 budget, other government departments are saying "maspik" - enough - aware that they are likely to see their budget lines cut to accommodate the military's demands.

"Yes, it costs billions. But think of the alternative cost - what damage 4,500 rockets might have caused without the protection of the Iron Dome? Try to imagine the IDF without intelligence capabilities that allowed for attacks from the air, land and sea. That costs billions too. Imagine the state of Israel without obstacles to defense means on our borders. That costs billions too," Ya'alon said.

The most agitated is Finance Minister Yair Lapid, whose party campaigned on a platform of social spending and is now suffering in the polls. The Israeli media is full of rumors that Lapid could quit if defense gets the money it wants or if taxes rise to make the numbers add up.

Prime Minister Benjamin Netanyahu has tried to tread a middle line, calling defense spending a critical priority while emphasizing that nothing will be done that risks blowing out the budget deficit or jeopardizing Israel's credit rating.

"The state of Israel needs a responsible budget that answers the security threats directed at us and which will not adversely affect the Israeli economy," he said on Sunday.

"I think that it is within our power to meet all of these challenges as long as we do so responsibly and do not lead Israel into an out-of-control deficit, with an out-of-control international overdraft," he added.

With growth slowing as a result of the war and slumping tourism, everyone is aware that the pie is not growing as rapidly as before, making allotments harder.

The problem for Lapid is two-fold: not only does the momentum appear to be with the defense chiefs and their demands for billions more, but he is under pressure from Netanyahu and the central bank to keep the deficit down.

The showdown will intensify over the coming days and weeks as Lapid, a former TV journalist, prepares to present the budget to parliament, which must approve it by March next year.

Yet an overriding question is whether the military really needs as much as money as it says it does, a question that is all the harder to answer because there is very little clarity over where defense spending ultimately goes.

"There's no way of making a serious public discussion over our priorities because the defense budget is entirely intransparent," said Stav Shaffir, a member of parliament's finance committee and a campaigner for social spending.

"With no transparency, it is impossible to decide how much money is really needed, how much of it is efficiently spent and how much can be moved to better use."

Ya'alon says one of the most costly areas is intelligence, where the budget has doubled over the past 16 years.

"Even if it had tripled, I wouldn't have wasted one shekel," a combative Ya'alon said this month, adding that the cost of weapons and communications systems had also jumped.

Israel already spends more on a defense as a proportion of GDP - around six percent - than every other country in the world aside from Saudi Arabia, Oman and Afghanistan.

Ya'alon's proposed increase for 2015 - which exceeds the legally permitted annual budget increase - would raise the level to around 6.6 percent of GDP, while swallowing about a quarter of all 2015 spending before debt-servicing costs.

"The finance ministry doesn't understand anything about military threats," said Shmuel Even, a researcher at the Institute for National Security Studies in Tel Aviv, who says there is very little fat to cut from the defense budget.

Yet less than half of defense spending actually goes to military equipment, operations and intelligence - a large portion goes to finance generous pensions paid to officers who often retire in their 40s before starting second careers.

The finance ministry is keen to clamp down on those benefits and "streamline" what it sees as inefficient spending.

"Israel's economy cannot bear all of that 11 billion in the budget," a senior finance ministry official said, referring to the defense ministry's requested spending increase.

"We try to do more with less," the official said. "Our job as the finance ministry is to make sure we save some money for other purposes of the government."

Yet the battle appears to be going the other way, with Ya'alon convincing Netanyahu that the country, which has fought four wars in the past eight years and faces multiple threats, cannot afford to take its foot off military spending.

As a result, either taxes will have to be increased or spending on education, welfare and health will have to be trimmed to keep the deficit around 3 percent of GDP.

Reuters contributed to this report.