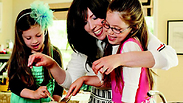 Jamie Geller. 'I was a disaster in the kitchen'
Photo: Zoe Bercovic Photography/ William Morrow
"Welcome to this episode of 'Joy of Israel'!" Jamie Geller told the audience with a big smile. "When I saw the olive trees here at the City of David, I said, 'Let's do a live cooking show featuring the seven super foods of the Bible.'"

The dozens of married women in the audience, most of them with their hair covered with scarves, according to the Jewish law of modesty, applauded.

Jewish Cooking

Yochanan Lambiase has a dream: To make strictly kosher food delicious. After training with some of world's kitchen legends, he's concocting his next move: Introducing molecular gastronomy to Orthodox Jews.

"You'll have to be much louder than that," Geller, her own hair covered with a shoulder-length brown wig, admonished them, laughing. They complied, thrilled to be near the culinary star, who moved to Israel two years ago, with her husband and five children, several of whom attended the taping.

To the Israelis present at the taping, the bigger star was Tom Franz, the winner of Israel's "Master Chef" last year. Franz, who was born a German Catholic and converted to Judaism, has become famous in Israel.

A group of elementary school boys on a school outing to the City of David, where Jews say King David established his capital 3000 years ago, and which has extensive archaeological excavations, started jumping up and down with excitement on recognizing Franz, yelling, "Tom, Tom!"

"Israel still has no gourmet kosher restaurants with a Michelin star," Franz told the audience. "Wouldn't it be great to see that happen?"

In "Joy of Israel," Geller cooks in different parts of the Jewish state. Previous episodes have focused on the Golan Heights, near Israel's border with Syria, and the West Bank city of Hebron, where Jews believe the forefathers are buried.

This episode, meant to air around Rosh Hashana, the Jewish New Year which falls later this month, focuses on what Geller called "the super foods of the Bible" – wheat, barley, grapes, figs, pomegranates, olives and dates – which are mentioned in the Bible as being indigenous to the Land of Israel. Jews traditionally eat sweet foods on Rosh Hashana, including an apple dipped in honey, as a wish for a sweet new year.

Franz, as the guest chef, brought several recipes with him, that he and Geller cooked together. First was Moroccan-style Frena bread, similar to a fluffy foccacia. Franz measured out the ingredients.

"Start with one kilo of white flour, and add 830 milliliters of lukewarm water," Franz told her.

"830? Exactly? There's that German precision," Geller teased Franz. "This is great. A German Catholic showing an American Jew how to make Moroccan bread."

There was also a smoked salmon Waldorf salad, with an orange yogurt dressing, and for dessert, yoghurt date honey pancakes with a whipped white chocolate ganache and fruit salad.

"Let's say that all together," Geller said. "Whipped white chocolate ganache, whipped white chocolate ganache, whipped white chocolate ganache."

Geller, 36, looks too young to be a mother of five. She has written three cookbooks – most recently, "Joy of Kosher – Fast, Fresh, Family Recipes." Geller, who became an observant Jew as an adult, says that as a young bride she had no idea how to cook.

"I was a disaster in the kitchen," she told The Media Line. "I wasn't really interested in cooking. I wanted to be the first woman president or a doctor or a lawyer, but my husband wanted to eat and I wanted to cook for him."

She spent her first maternity leave learning how to cook and in 2007 published "Quick and Kosher: Recipes from the Bride who Knew Nothing." In 2010, the New York Times published her recipe for cholent, a slow-cooking stew that many traditional Jews eat on the Sabbath where cooking is forbidden. The stew is cooked in advance and kept hot in the oven overnight.

"It's actually my husband's recipe," Geller says, laughing. "I finally get into the New York Times, and it's with his recipe."

Many of those who won free tickets to the taping of the show were diehard fans. Meir and Tania Rina Perry were celebrating their first anniversary. They met on a blind date and were married two months later.

Perry asked Geller to autograph two copies of her latest book.

"One is for me and I'm putting an ad on Facebook that the next person who makes aliyah gets one as well," Perry told her, using the Hebrew word for immigration to Israel.

Geller and her family immigrated to Israel in 2012, documenting their process in short segments on her "Joy of Kosher" blog. They moved to the mostly ultra-Orthodox community of Ramat Beit Shemesh, halfway between Jerusalem and Tel Aviv. Moving to Israel was her husband's dream, she says, but she is now totally on board.

"My daughter just got put in the highest Hebrew class," Geller says enthusiastically. "That's amazing. I'm so proud of her."

Geller comes across as an engaged mother, starry-eyed new immigrant to Israel, and still overwhelmed by her newfound celebrity. The kosher food industry is a multi-billion dollar business in the US, and Geller has achieved something close to stardom with her Joy of Kosher website. She hopes that "Joy of Israel" will have a similar reach.

"My cooking is simple and easy," she says. "I love the unique combinations in Israeli cuisine like lamb kebobs with cinnamon. I never would have thought they would be good together but they're amazing."

On the set, she asks Franz to tell his story, saying she was "incredibly moved" when she heard it.

"I was born a German Catholic," the tall slim Franz, his hair gathered in a neat pony tail, with a gray knitted skullcap sitting neatly on his head. "I was a lawyer and a banker but I always felt something was missing. I found that something when I moved to Israel and converted to Judaism."

Later Franz said his journey was not an easy one.

"I left a lot behind – my country, my family, everything I knew," he told The Media Line. "But I felt a spiritual longing. I felt that I just had to live here."

At the end of the taping, the studio audience got to taste the food that was cooked. Many agreed that was the best part of the day.

Article written by Linda Gradstein.

Reprinted with permission from The Media Line .