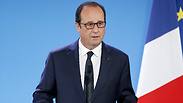 Hollande at the International Conference for Peace and Security in Iraq
Photo: EPA
France opens Iraq conference urging 'global' fight on jihadists
French officials say coalition against ISIS must have a political plan for once goal of weakening Islamic State has been reached, arguing the 2003 US-led intervention in Iraq contributed to current crisis because it lacked long-term vision for Iraq.
PARIS - French President Francois Hollande called on Monday for united international action to tackle the threat from Islamic State militants as he opened a conference on Iraq bringing together members of a US-led coalition.

The United States this week unveiled an outline plan to fight the Islamist militants simultaneously in Iraq and Syria. It believes it can forge a solid alliance despite hesitancy among some partners and questions over the legality of action, notably in Syria where the militant group has a power base.

"What is the threat?" the French leader said as he opened the one-day meeting of officials from some 30 states in Paris.

"It is global so the response must be global ... Iraq's fight against the terrorists is also our fight. We must commit ourselves together - that is the purpose of this conference," said Hollande, who last week travelled to Baghdad to meet members of Iraq's new government.

Related stories:

Iraqi President Fuad Masum said he hoped the Paris meeting would bring a "quick response" to jihadists who have declared a caliphate or Islamic state ruled under Sharia law in the heart of the Middle East.

"Islamic State's doctrine is either you support us or kill us. It has committed massacres and genocidal crimes and ethnic purification," he told delegates.

Foreign ministers from the main European states, the five permanent members of the UN Security Council, Iraq's neighbors and Gulf Arab states Qatar, Saudi Arabia, Kuwait and the UAE, gathered to discuss political, security and humanitarian aspects of tackling Islamic State.

Iran, which is highly influential in its neighbor Iraq, is not attending the conference.

"We wanted a consensus among countries over Iran's attendance, but in the end it was more important to have certain Arab states than Iran," a French diplomat said, signalling that Saudi Arabia had not been keen on Tehran coming.

French officials say the coalition plan must go beyond military and humanitarian action, arguing there must also be a political plan for once Islamic State has been weakened in Iraq.

They argue that the 2003 US-led intervention in Iraq, in which Paris did not participate, ultimately contributed to the current crisis because it lacked a long-term vision for the different strands of Iraqi society.
'No free pass'
France has said it is ready to join US air strikes in Iraq but says legal and military limitations make it more difficult in Syria, where Islamic State's main powerbase lies.

Earlier, Foreign Minister Laurent Fabius said French aircraft would begin reconnaissance flights over Iraq on Monday.

"We told the Iraqis we were available and asked them for authorization (to fly over Iraq)," Fabius told France Inter radio, confirming that the first flights from a French base in Abu Dhabi would begin on Monday.

"The cost of inaction would be to say to these butchers 'go ahead, you have a free pass'. We won't accept that," he said.

A French official confirmed two Rafale fighter jets and a refuelling aircraft had taken off on Monday for Iraq.

The idea of a coalition has been accepted in Western capitals and 10 Arab states, including regional rivals Saudi Arabia and Qatar. But US Secretary of State John Kerry said on Friday it was too early to say what tasks individual partners would take.

US officials said several Arab countries have offered to join the United States in air strikes against Islamic State targets, but declined to say which countries made the offers.

Norwegian daily VG quoted Foreign Minister Boerge Brende as saying Oslo, which is at the Paris conference, was considering a military presence in Iraq.

"First and foremost we have said that there would an additional contribution to humanitarian work. But we are also considering whether we will, separately to the humanitarian help, also contribute with military capacity building," he said.

"This could be training of personnel, but it will depend on the demand we get," he added.