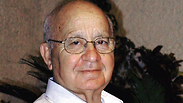 Former Mossad Chief Yitzhak Hofi
Photo: David Rubinger
Former Mossad director Yitzhak Hofi (Haka) passed away Monday at the age of 87. Hofi a former IDF general and Mossad chief played a key role in the the daring 1976 commando rescue raid in Uganda and served as GOC Northern Command chief during the Yom Kippur War.
Hofi fought in the War of Independence in 1948 and rose through the ranks to become head of the northern command during Yom Kippur in 1973. He was regarded as one of the few top officers who warned of the threat of a surprise Arab attack on the fateful Yom Kippur day for which the war is named.
He headed the Mossad from 1974 to 1982. During his term, the Mossad helped rescue Israeli hostages in Entebbe, Uganda after their plane was hijacked.
Prime Minister Benjamin Netanyahu eulogized Hofi Monday as someone who "spent his whole life defending Israel's security."
Hofi was born in Tel Aviv on January 1927. At 17 he enlisted to Palmach and after four years, during the War of Independence 1948, he was a company commander in the first battalion of Palmach's Yifatch Brigade. Afterwards he served as an operation officer in the GOC Southern Command under Commander Yigal Allon and Moshe Dayan.
When Ariel Sharon was the Paratrooper's Brigade commander, Hofi served as his deputy and led a force into the infamous Mitla Pass in Sinai. In the early 60s, Hofi was promoted the Paratroopers' Brigade commander, running the elite brigade throughout its heyday. During the Six Day War, Commander Ezer Weizman said that Hofi's contribution to Israel's victory was crucial.
Until 1972, Hofi was deputy chief of IDF'ss Operations Directorate. Even before the Yom Kippur war he predicted problems in the north and asked for a reinforcement of IDF forces in the Golan Heights. Under his command, the Syrian offense during the war was curbed and an enclave was conquered in Syrian territory all the way to the suburbs of Damascus.
In 1974 he was appointed as Mossad's director and during his term several Black September leaders were eliminated, the kidnapped Air France passengers taken to Entebbe were freed, terrorist Ali Salama was assassinated in Beirut and Israel attacked hit the nuclear reactor in Iraq.
Defense Minister Moshe Ya'alon said that "Major General Yitzhak Hofi was one of Israel's founders and protectors since he was a teenage boy who volunteered to be a fighter and commander in the Palmach through active roles in the IDF, and finally as director of Mossad. Hofi was present in the country's major junctions, in wars and battles and always as a courageous and level-headed commander."
"Hofi directed the Mossad with great success at a time when Israel was dealing with terror activity expanding internationally. Throughout his life Hofi was a people's person, an exemplary commander and a role model for generations to come. Even now, years after his release from military service, Hofi and his Palmch generation colleagues continue to influence the IDF and its military way," Ya'alon added.
Prime Minister Benjamin Netanyahu expressed his sorrow for Hofi's death and said "Yitzhak Hofi worked his entire life for the sake of Israel's defense in a variety of military roles in the Palmach, IDF and Mossad where he took an active part in rescuing the hostages in Operation Entebbe. I would like to strengthen the family in this difficult hour. The people of Israel are thankful to him for his great contribution to Israel's defense".