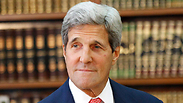 US Secretary of State John Kerry
Photo: Reuters
US Secretary of State John Kerry refused be drawn into a "back and forth" with Iran on Monday following Tehran's assertion that it had rebuffed a US request to coordinate a response to the Islamic State jihadist group, but says he was "hopefull" of reaching a nuclear deal with the Islamic republic.

Meanwhile, the UN's nuclear watchdog sought to put pressure on Iran on Monday to address suspicions it may have carried out atomic bomb research, three weeks after Tehran failed to meet a deadline for providing information about the issue.

Speaking to reporters at the US ambassador's residence in Paris after an international conference on Iraq attended by 26 countries, Kerry said "I'm not going to get into a back and forth (with Iran). I don't want to do that. I don't think that is constructive, frankly," Kerry told

Video: Reuters (צילום: רויטרס)

Kerry was speaking after Iran's supreme leader, Ayatollah Ali Khamenei, said Tehran had vetoed a US invitation to cooperate in fighting Islamic State. "The American ambassador in Iraq asked our ambassador (in Iraq) for a session to discuss coordinating a fight against Daesh (Islamic State)," said Khamenei, in quotes carried on state news agency IRNA.

Asked if that news was false, Kerry replied, "I have no idea of what inter-operation they drew from any discussion that may or may not have taken place. We are not coordinating with Iran. Period."
Nuclear politics
Kerry said he was "hopeful" Tehran and Washington could find common ground in the next round of nuclear peace talks, which begin on Thursday. However, director general of the UN's nuclear watchdog, Yukiya Amano, said Iran had not carried out two of the five transparency steps it had agreed to implement by Aug. 25 regarding its nuclear program.

Regarding nuclear negotiations, Keryy said "I don't express levels of optimism on it. I'm hopeful that it will be possible to find a way to reach an agreement that is important to the world but there is some very difficult issues," he said.

"There still needs to be some movement on them. And I hope Iran will do everything in its power to be creative and thoughtful and helpful in the process and that's what we both need to be," he said.

However, a lack of progress in the IAEA investigation could further complicate efforts by six world powers to negotiate a resolution to a wider, decade-old dispute with Iran and curb its nuclear work in exchange for a gradual ending of sanctions.

"In order to resolve all outstanding issues, past and present, it is very important that Iran continues to implement, in a timely manner, all practical measures agreed," Amano told the UN agency's 35-nation board of governors.

The phrase "past and present" refers to the IAEA's long-running inquiry into suspicions, denied by Iran, that the country has worked on designing a nuclear weapon.

Iran has been promising to cooperate with the IAEA since Hassan Rouhani, seen as a pragmatist, was elected president last year. It says its nuclear program is a peaceful project designed solely to generate electricity.

The two issues that have not yet been addressed by Iran under a cooperation pact with the IAEA are alleged experiments on explosives that could be used for an atomic device and also studies related to calculating nuclear explosive yields.

Amano said Iran had "begun discussions" with the IAEA on the two measures but he gave no details. He also said the UN agency had asked Iran to propose future transparency steps to help advance the investigation, but that it had yet to do so.

Earlier on Monday, world powers backed military measures on Monday to help defeat Islamic State fighters in Iraq, boosting Washington's efforts to set up a coalition, but made no mention of the tougher diplomatic challenge next door in Syria