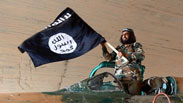 Islamic State in Syria
Photo: AP
US officials said Monday the United States has taken the first step in its planned expanded fight against Islamic State militants, going to the aid of Iraqi security forces near Baghdad who were being attacked by enemy fighters.

The US Central Command said it conducted a strike Monday in support of the Iraqi forces southwest of Baghdad. There was also an airstrike Sunday near Sinjar in northern Iraq.

The strike southwest of Baghdad represents the newly broadened mission authorized by President Barack Obama to go on the offensive against the Islamic State group wherever it is. Previous US airstrikes in Iraq were conducted to protect US interests and personnel, assist Iraqi refugees and secure critical infrastructure. Monday's strike was in direct support of Iraqi forces fighting the militants, hitting fighters who were firing on them.

US officials said the Iraqi forces requested assistance when they came under fire from militants. Those officials spoke on condition of anonymity because they were not authorized to discuss the mission publicly by name.

Central Command said the Sinjar strike destroyed six vehicles belonging to Islamic State militants.
Syrian front
Meanwhile, senior administration officials said that the US would retaliate against Syrian President Bashar Assad's air defenses if he were to go after American planes launching airstrikes in his country.

Related stories:

The Official said the US has a good sense of where the Syrian air defenses, along with their command and control centers, are located. If Assad were to use those capabilities to threaten US forces, it would put his air defenses at risk, according to the officials, who insisted on anonymity in order to discuss the administration's thinking on the matter.

President Barack Obama has authorized US airstrikes inside Syria as part of a broad campaign to root out the Islamic State militant group, though no strikes have yet been launched in the country.

Asked Monday about the prospect of striking Assad's regime if his forces were to target Americans, White House spokesman Josh Earnest said there will be "rules of engagement that are related to any military orders the president directs."

"It won't surprise you to know that there are contingencies related to self-defense when it comes to these sorts of rules of engagement," he said.
Talking to Iran
As US Secretary of State John Kerry continued efforts to round up partners on Monday for the fight against Islamic State, he said that the US was open to talking to Iran about a role in resolving the crisis, despite Washington's earlier opposition to Tehran even attending the conference.

Kerry ruled out any military coordination with Iran, which in the end was not invited to a conference in Paris to discuss the issue and solidify what actions partners would take against the Islamic State.

"That doesn't mean that we are opposed to the idea of communicating to find out if they will come on board, or under what circumstances, or whether there is the possibility of a change," Kerry told a small group of reporters.

"We're not coordinating with Iran, but as I said, we're open to have a conversation at some point in time if there's a way to find something constructive," he said.

Kerry spoke after Iran's supreme leader, Ayatollah Ali Khamenei, said the US had in fact requested that Tehran join the fight against the Islamic State group but it rejected the overture because of Washington's "unclean intentions."

Kerry did not respond directly to questions about that claim. He said there are often discussions on the sidelines of nuclear talks.

"I'm never going to shut the door to something that could solve a problem if there's a way to do it," Kerry said.
Training the opposition
US lawmakers also took action Monday, trying to authorize an expanded mission to arm and train moderate Syrian rebels before heading back to the campaign trail, with House Republicans preparing legislation backing a central plank of President Barack Obama's strategy against the Islamic State group.

The authorization under consideration will likely be included as an amendment to a spending bill Congress must pass to keep the government open until mid-December. That would give lawmakers the opportunity to hold a separate debate and vote on the matter - something members of both parties want.

The measure doesn't authorize US combat troops in Iraq or Syria or explicitly ban them, reflecting a congressional divide between hawks seeking tougher action than that proposed by Obama and lawmakers weary from more than a decade of US wars in Iraq and Afghanistan. It also compels the Pentagon to present Congress with a plan 15 days before any training begins, according to a House Armed Services Committee aide, who wasn't authorized to speak publicly about ongoing deliberations and demanded anonymity.

Democrats are reviewing the proposal, which would enable the military to take over what has previously been a limited, covert operation to beef up rebels battling extremist groups and President Bashar Assad's army. The administration isn't likely to protest the conditions. It has sent more than 1,000 troops to Iraq to provide military assistance and bolster security of US diplomatic facilities and personnel. But Obama, too, opposes any US ground offensive.