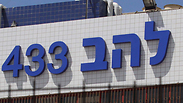 Anti-Fraud headquarters.
Photo: Ido Erez
A former Israeli minister was held for questioning on Tuesday morning on suspicions of bribery.

He is being questioned at the police's Anti Fraud Unit under caution on the suspicion of bias over government tenders in return for bribes.

After the questioning, police will decide whether to bring the minister in front of a judge or release him on restrictive terms.

The politician has been publicly accused before of different offenses, and is not currently a member of the government.

The suspicions are based in the period the minister was in office. Evidence was collected during an undercover investigation, strengthening the suspicions against the minister.

Among other things, the charges involve millions of shekels that were passed on to the minister's associates.