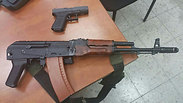 The replica rifle.
Photo: Police Spokesperson's Unit
Two men suspected of attacking two Eritrean immigrants were brought before Petah Tikvah's Magistrate's Court Tuesday, where their remand was extended by three days. Vladislov Sorokov and Alexander Sandovski, both 30-years-old, admitted to the crime during questioning and stated that they had attacked the Eritrean men because they, "don't like blacks".

They appeared to have retracted their admissions in court however, where Sandovski, Israel's former runner up in the national Krav Maga championship, said that he saw a fight break out and tried to break up the brawl. Sorokov on the other hand, said that he had been attacked himself.

One of the victims, a 35-year-old asylum seeker, was seriously wounded in the fight and hospitalized at Beilinson Hospital with skull fractures. The second Eritrean man, a 74 year old, was lightly wounded.

According to the results of the investigation, the two Eritreans were at a family event two days ago in Petah Tikvah, and left in the direction of the city's central bus station where they were attacked.

One of the two suspects apparently threatened them with a fake rifle before attacking the Eritreans physically.

It was one of the two victims who told police that the crime had racist motives before the attackers were questioned and said that they "don't like blacks". They added, "Who brought the Ethiopians to Petah Tikvah and what are they free to walk about the city?"

Petah Tikvah police chief Tal Pikrevitch said that, "In light of the circumstances of this terrible event, we're making every effort to arrest the suspects for the safety of the public."