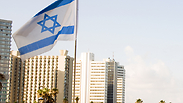 Israeli hotels asked to pay more for kashrut certificates at peak of tourism crisis
Photo: Shutterstock
The Israel Hotel Association (IHA) is furious with the Ministry of Religious Services after hotels have been asked to pay an addition of 30% for their kashrut certificates for the coming year.

According to a letter sent by the ministry, Religious Services Minister Naftali Bennett signed regulations regarding different services provided by the ministry in October 2013. The letter details the price each hotel is required to pay for a kashrut certificate, according to its size. The price refers only to the certificate and not to the cost of making the hotels kosher.

New Measures

Following severe blow to tourism as a result of Gaza conflict and cancellations into early 2015, ministry decides not to wait for government decision related to compensation formats for industry.

Tourism Ministry Director-General Amir Halevi said in response, "We recently held several meetings in a bid to try to reduce the kashrut costs, and raised a number of proposals which could definitely be effective without harming the kashrut itself.

"It's outrageous that precisely at this time, in the peak of the tourism crisis, while hotels are dealing with a collapse in their occupancy rates, they are being required to pay kashrut fees with an addition of tens of percentage points."

Halevi added that "it's unthinkable that while one hands works to reduce the excess regulation which makes vacations in Israel more expensive, the other hand acts against this regulation. This will be handled in the firmest manner."

IHA Director Shmuel Zurel defined the decision to raise the cost of kashrut certificates as a scandal. In an urgent appeal to the Tourism Ministry, he wrote: "At a really perfect timing, at the peak of a crisis, hotels have been required to pay an addition for their kashrut certificates. One hand works to reduce vacation prices in a bid to help the hotels deal with a serious crisis, and the other hand raises prices by 30%."

He demanded that the ministry take swift action to stop the price hike.

Lior Raviv, CEO of the Isrotel hotel chain noted that hotels have to pay for the kashrut certificate in addition to the millions of shekels they pay for the kashrut process itself. "In Isrotel, for example, the kashrut costs the chain's hotels about NIS 3 million ($830,000) a year," he said.

A hotel manager we spoke to on Monday, who asked to remain anonymous, said that "while hotels charge hundreds and sometimes thousands of shekels for a room per night, and are unable to even serve their guests an espresso on Shabbat, they are being asked to pay huge sums of money for kashrut certificates which reflect no progress."