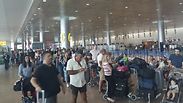 Travelers at Ben Gurion Airport
Photo: Itay Blumental
Airport Authority workers launched a three-hour strike at the Ben Gurion International Airport on Thursday, stopping check-in for departing flights and leave thousands of travelers waiting.
The workers are striking as act of solidarity with the workers of the Israel Postal Company, who have been imposing various sanctions for the past few weeks following negotiations regarding the company's recovery plan that reached a deadlock.
The strike, which was due to start to start at 11am, started at 10:30am so that passengers' baggage won't get stuck in the security inspection area. At 10:30am, the airport's PA system announced that "due to airport workers committee sanctions, the check-in process will be delayed. We apologize for the inconvenience."
The strike will affect about 58 flights scheduled in these hours, which will delay the arrival of 8,500 passengers to Israel. A source at the Airport Authority said the all the airlines will receive a report about the expected disruptions so they could prepare accordingly.
The strike was initiated following a labor dispute declared by the Histadrut against the state's intention to lay off some 1,500 permanent workers from the Israel Postal Company and replace them with temporary workers.
Histadrut Chairman Avi Nissenkorn told Ynet that "If the contract workers' phenomenon is not resolved, we will launch a general strike."
"This is the main problem of Israeli society – the social gaps. I sincerely hope that the finance minister solves this problem, because this is a matter of policy. If there is one thing that we won't allow is to have permanent workers sent home in order to replace them with contract workers," Nissenkorn added.
Chairman of the Airport Authority Pinchas Idan said that what is happening was the destruction of the public sector. "Workers are being terminated and sent home without having another job. Throughout the years the state neglected the Postal Company and now the workers are the ones who pay the price."