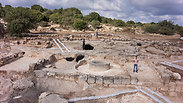 Archaeological discovery in Beit Shemesh
Photo: Griffin Aerial Photography Company
During an archaeological survey that was conducted by the Israel Antiquities Authority, as part of plans to expand the city of Beit Shemesh, archaeologists recently discovered ancient clogged wells, a tunnel shaft and wall parts.

The archaeologists realized they were standing in the middle of a large compound from the Byzantine Period with a large olive press and mosaic. "All our findings indicate that this used to be a local monastery," said the researchers.

The archaeologists reported that in the past few weeks they discovered a rich piece of life from the Byzantine Period that they were not familiar to them. The compound was surrounded by an external wall and divided into two areas – one was used for living and the other was used as an olive press to manufacture olive oil.

Outside the built site, a large wine press was found which consisted of two grape-pressing surfaces. From that same site the grape Juice flowed into a large collection pit. According to researchers, the local residents were producing wine and olive oil for a living.

In addition two large stoves were revealed which indicate that the manufacturing of these products was conducted on an industrial scale.

Several rooms with mosaic floor were discovered as well. The rooms were made of Hewn stones and their walls were covered with fine plaster. The floors were laid with two colorful mosaic carpets, one of them is decorated with a grape cluster and around it a wreath of flowers locked inside a geometrical frame.

"Though we haven't found a church, a testimony or any other ritualistic evidence, we presume that this was a kind of monastery," explained Antiquity Authority excavation directors, Irena Zilberbod and Tehila Libman.

"The impressive construction with the magnificent mosaic floors is known to us from other monasteries dating to the Byzantine Period. It can be assumed that the monks who lived in the monastery sustained themselves using the agricultural facilities," added Libman and Zilberbod.

Dr. Yuval Baruch, the Jerusalem Regional Archaeologist of the Israel Antiquities Authority, said the IAA and Housing Ministry had already taken measures to preserve the site, which would ultimately be situated in the heart of the new neighborhood set to be built in the area.