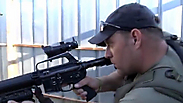 24's Jack Bauer is no longer with us, but the reality of life in Israel has bred a local replacement for the counter-terrorism specialist who makes personal sacrifices for the uncompromised security of the nation.

Steve Gar, who even maintains similar physical characteristics to Keiefer Sutherland, spends his days as a counter-terrorism instructor at the Caliber 3 training facility and his nights studying to be ordained as a rabbi. But Gar's roots began in South Africa, where he grew up in an environment far away from respecting Shabbat.

Meet Israel's Jack Bauer (צילום: אורות)

"I was naughty child," he told Ynet. "I took drugs, but everything was empty... I said to myself that I want to find something that gives some meaning to life. That's how I started searching: Who created us? Why are we here? I started slowly; I didn't want to create problems at home."

Gar's military service in the IDF and his natural desire to protect Jews wherever they may be, paved the way for his life as a security expert. He eventually married and settled down with his family the Gush Etzion region.

He lends his efforts as a counter-terrorism expert by training soldiers and performing demonstrations and lessons for tourists. Gar's demonstrations for foreigners always begin with a motivational, pro-Israel speech.

"I don't think that the IDF should be called the IDF. I think it should be called the JDF: the Jewish Defense Force," he said when Ynet joined him for one such session. "In the year 2014, Jews in the world need to know that they aren't alone. You have a nation behind you."

"I know what you've seen on BBC and CNN," he continued. "That Israeli special units, my unit, loves killing innocent Palestinians. That is a lie. I want you to see how we train. I don't shoot someone because of their religious or political beliefs. I don't shoot them because of the way they look; I shoot them because they're killing innocent civilians."