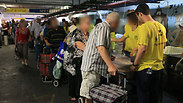 NGO: 12,300 holiday food baskets requested in comparison to 10,500 last year
Photo: Yaron Brenner
Hundreds of people, mostly senior citizens from the former-USSR, arrived Thursday to a food distribution center to get the food and goods they need to go ahead with the holiday season.

The center, run by Pithon Lev – an Israeli NGO dedicated to fighting poverty – was soon overrun by needy, with some people forced to wait in long lines until they could get their holiday basket, highlighting the rising number of poor in Israel – especially the working poor.

Video: Yaron Brenner (צילום: ירון ברנר)

"I have a job, I never thought I would be in a place like this. Wake up! People here are going under," one man said waiting for a package. "I hope someone in the government will see us, we have nothing to eat or wear," another woman said.



Boris, 67, works as a part-time street cleaner and earns NIS 2,200 a month. "We have a stipend given to the elderly from the National Insurance, but we cannot live off of that money. I am angry because it is unbelievable that we have to come to a place like this. The government needs to do more for us."

Laura, a mother of six from Lod, echoed his frustration: "I'm here because I have no choice. My husband works as a mechanic and makes NIS 4,000 a month, we have child with special needs who needs my help and care. I receive a handicap stipend of another NIS 2,500, but that's not enough to make ends meet, its not enough to give buy my kids clothing and also food."




Marina, 62, a single mom of two, also explained her plight: "I earn NIS 3,900 from my job as a caregiver, but that barley covers expenses. I have a daughter with special needs and the costs entailed in her care are nowhere near what the National Insurance gives. It's shameful the way this country handles such things. We have rent to pay."
Rise in aid requests
According to the latest poverty report from the National Insurance Institute, more than 1.7 million Israelis lived below the poverty line in 2012. Experts estimate that the new report to be submitted at the end of 2014 will show an increase in poverty and social disparities due to the expected effects of increased VAT taxes and cuts in children's welfare which were decided on last year.

According to Pitchon Lev, there is a drastic rise in the number of those requesting food baskets for the holiday, especially in wake of Operation Protective Edge which dealt some businesses a serious economic blow.




According to the NGO's director general, Nissim Zioni, "some people are on the brink of bankruptcy. During this holiday we will hand out some 12,300 holiday food baskets, in comparison to 10,500 given last year. This is a number that is actually low and does not represent the number of request we received, which was much higher.

A Ynet investigation revealed that before the holiday season, a number of such organization registered a massive 20% rise in requests for aid. According to Ynet's investigation, the NIS 60 million the government promised for food security has yet to be transferred to the relevant agencies.

The Committee for the Fight against Poverty, appointed by Welfare minister Meir Cohen, presented its findings a number of months ago, but despite the minister's promises, it appears that the budget cuts for 2015 will have a direct effect on the committee's ability to provide aid.

When the Committee's conclusions were brought before the minister in June, he promised to present the report at a cabinet meeting within two months, but because of Operation Protective Edge, discussions on the issue were delayed and the findings were never turned into action.

Members of the committee, led by Elie Elalouf, met with officials over the last few weeks in an attempt to push the report to the forefront of government discussions, and the Welfare Ministry has said that the cabinet will address the issue soon. The ministry also pointed out that overall welfare had increased by one billion shekels over the course of 2014.

Leket Israel, one of the biggest charities in Israel providing food aid, has been affected the most by increasing demands. During every week of last month, the organization provided various amounts of food to some 168,000 in need - an increase of 20% in the number of packages given out during the same period of last year.

The reasons for increasing demands are varied, but charities are pointing to more requests from those who are employed as well as the recent fighting in Gaza, the increase in VAT taxes, and cuts to children's aid programs.

According to Pini Fefer, Relations Director at Leket, "We hear more and more about the working poor who turn to charity and we can see now the late effects of last year's budget cuts."

Fefer also said that, "The fighting in the south then needs to be added on top of that. Some of the people in disadvantaged communities are poor workers who were already living on the edge, their children weren't in school, and that's a very large expense. The area cries out."