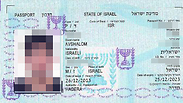 Two Iranians in their early 20s, a man and a woman, were arrested in the Kenyan capital Nairobi earlier this week when they were discovered using fake Israeli passports and going by the names Adi and Avshalom.

This is not the first time Iranian nationals are caught abroad with Israeli passports. These passports are very popular in the world because of the relatively extensive freedom of movement they grant their owners.

The difference this time, however, was that the two did not intend to use the passports to move freely in the western world, but in order to enter Israel.

The two tried to board a Brussels Airlines flight to Belgium, and from there board a flight to Tel Aviv.

They were arrested at the Nairobi Airport and taken to the Kenyan immigration office, which informed Israeli authorities of the arrest. The arrest was also reported to the Israeli Embassy in Kenya.

The two Iranians were still being questioned and at present, it is unclear why they sought to enter Israel using the fake passports: whether this was an attempt to spy on Israel, to execute a terrorist attack, or whether the two young people were seeking to start a new life in a western country, and believed Israel was their best option.

The Kenyan authorities provided the Israeli immigration authority with copies of the forged Israeli passports used by the two Iranians to try the country.

An investigation found the passports were real passports stolen abroad. It is yet unclear how the two Iranians procured these passports and who replaced the original photos with their photos.

Israeli officials said that while immigration authorities worldwide remain vigilant when it comes to fake Israeli passports - as it is common knowledge it's easy to forge them - this incident further demonstrates the necessity and advantages of biometric passports, which are impossible to forge.

A biometric passport ensures that even if the passport is lost or stolen, no one else would be able to use it as it would be immediately evident the user is not the passport's original owner.

The Population and Immigration Authority introduced the option for a biometric passport in late June 2013. A biometric passport requires fingerprints of the two index fingers, and a picture of a person's facial features.

The Population and Immigration Authority stressed that biometric documentation was the only one that could ensure the personal safety of the individual and safeguard his identity.