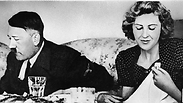 Adolf Hitler and Eva Brown
Photo: Gettyimages
Being one of Adolf Hitler's food tasters, meal time for Margot Woelk was literally a Russian roulette. 96-year-old Woelk told German TV channel RBB of the horrifying meals that reduced her and her friends to tears of relief every time they discovered the food was not poisoned and their lives were spared once more. From among her food-tasting friends, Woelk is the only woman who survived.

When she was 25 years old, Woelk was recruited along with 14 other women to sample the Nazi leader's food, to make sure it wasn't poisoned.

But even after those two terrible years, when she was at last liberated, the suffering had not ended. Woelk suffered another devastating trauma – she and her friends had been brutally raped for two weeks by the Russian soldiers who seized Berlin in 1945.

Related stories:

Because Hitler was a vegetarian, and in light of serious concerns the British were determined to poison him, the Nazi leader's meals did not include fish and poultry and were mainly based on rice, noodles and vegetables.


"Some of the women cried at the beginning of every meal, fearing the food is indeed poisoned and they were going to die. We had to taste everything and wait an hour, after which we cried our eyes out, knowing that we were saved, day after day," testified Woelk.

She became Hitler's food taster by chance, when, after her husband was sent to fight in the war and their apartment was bombed, her mother-in-law suggested she moved to live in the village of Gross-Partsch.

Shortly after her arrival, however, she was taken by force by the SS. As part of her role, Woelk was driven daily to a structure where the tasting took place.

Despite her important position, she never met Hitler. After the assassination attempt on Hitler's life failed in 1944, she escaped and saved herself. Her colleagues were all murdered by the Russians.

"We were sitting on a wooden bench and all of a sudden we heard a massive explosion. We heard someone yelling 'Hitler is dead', but that wasn't the case". The assassination plot had failed and led to the death of 5,000 Germans who were suspected of being involved in the crime.

Woelk's husband was transferred to another position and she moved to Berlin, but the Russians invaded the city. "We all tried to pretend that we were older ladies, but the Russians came and tore off our clothes. We were raped for 14 days. It was a living hell, a nightmare that never really went away," said Woelk.

It was for this reason that Woelk was left barren. "I always wanted a daughter. When I turned 50 I thought that if I had a daughter she would have been 25 now, but unfortunately that wasn't possible," she said.