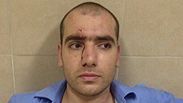 Five youths were arrested on Friday night on the suspicion they assaulted attorney Ibrahim Kilani in Upper Nazareth because he is an Arab.

Kilani, from Yafa an-Naseriyye, was lightly wounded and taken to the Nazareth English Hospital for treatment.

Police said a fight broke out between four 17-year-old guys and a 19-year-old guy and two youths from the neighboring villages.

Kilani told Ynet that he went to visit a friend in Upper Nazareth. When he arrived there, he saw a girl crying and speaking in Arabic.

"I walked towards her to help her and all of a sudden five Jewish youths approached me and started viciously attacking me," he said.

The attorney said the five attacked him with sticks and caused bruises to his head, among other places.

"While they were attacking me, I tried to pretend to be a policeman, but nothing helped. They kept attacking me and used harsh curse words."

He said he managed to escape, but the attackers chased after him. While running, an Arab driver stopped her car and told him to get inside. "She helped me get away from there and call the police. It's lucky she understood the mortal danger I was in."

Kilani was so outraged by the attack that he said he was considering quitting his job at the Economy Ministry.

"This is not the first time I encounter racists. I'm very hurt, and I don't even feel like going to my job in Jerusalem anymore," he said. "Sometimes I think that if racism in Israel is not eradicated, it would be better that I quit."

Kilani said he hoped perpetrators of such attacks would find themselves behind bars. "What I went through was very scary. This sort of people belong in prison. I'm a man who serves his country and I have friends from all ethnicities. I've never even considered hurting someone else and I and others don't deserve this kind of treatment."

Police arrested the suspects in the assault, who will be brought for a remand extension on Saturday night in the Nazareth Magistrate's Court.

"The lead we're investigating is thuggery, but we have not ruled out a nationalistic motive - and everything is being investigated," commander of the Upper Nazareth police, Shalom Avitan, said. "The suspects, including the minors, are known to police for past violence offenses."