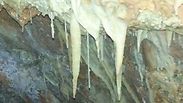 The cave.
Photo: Lior Cohen
A large cave of stalactites was discovered by the Israel Nature and Parks Authority (NPA) together with the Cave Research Unit (CRU) during construction work in the Jerusalem hills.

The new cave was uncovered after construction workers blew up a boulder and saw a hole underneath. NPA workers arrived on the scene and explored the hole with flashlights, discovering the expansive cave full of stalactites.

Efforts are currently underway to map the cave and prepare for its public opening in another month. At the moment the area is still considered dangerous for the general public and the NPA requested that the exact location of the cave not be published.

Related stories:

Benny, a member of the local community where the cave was discovered said, "They found the cave next to the road that leads to the new neighborhood that's being built. I hope they build a national part or some place for visitors to come see this cave."

Benny and his friend haven't been inside the cave yet, but said that many similar discoveries had been made in the area including one cave found a decade ago, located just meters from his house.

"We're all waiting to go in and be impressed," he said.

Stalactites and stalagmites are a phenomena created in a process that takes years, as water laden with limestone drips down from the ceiling of a cave.

Officials are currently discussing how to properly preserve the new find. Stalactites and stalagmites are protected by law making it illegal to harm them.