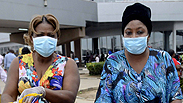 Israel to send medical aid, experts to Africa
Photo: AFP
Joining international effort to combat the raging Ebola epidemic, Israel has announced it will send medical aid and experts to Africa to treat patients who have tested positive for the virus that has claimed the lives of 2,600 people so far.

Nearly 5,300 people have become ill from Ebola in Liberia, Sierra Leone, Guinea, Nigeria and Senegal since it was first recorded in March. Doctors Without Borders says that figure could rise to more than 20,000 and end up costing nearly $1 billion to contain.

The Foreign Ministry has already sent two doctors to Cameroon, who will help in preventing the spread of the virus. Additional doctors will be deployed in the near future. Later on this week, Israel will also send a shipment of medicine and medical equipment to the affected countries.

Stressing the country's commitment to help Africa fight the virus, Israel's UN Ambassador Ron Prosor stated during a UN Security Council emergency session on Ebola earlier this week that "the international community holds the tools and knowledge to save thousands of lives, yet so far the global response has proved itself to be insufficient.

"As soon as a new treatment facility opens, it immediately fills to overflowing," Prosor said, adding that "patients and families are lining up outside begging for help.

"From Haiti to Ghana and more recently the Philippines, Israel has lent a helping hand to dozens of countries," he further stated.

"The time for global action is now. Tens of thousands of lives and the future of West Africa hang in the balance. Every country, no matter how small, has a role to play in combatting the Ebola epidemic," the Israeli ambassador said.
Five Ebola species
The Israeli aid group IsraAid will also be sending two teams of medical experts to Sierra Leone and Liberia. One team will assist in launching a trauma treatment program which aims to help the population cope with fears of the disease and stress caused as a result of the outbreak.
Another medical team will advise residents on how to maintain personal hygiene in order to prevent the spread of the virus.
There are five known distinct species of Ebola, and the outbreak raging in west Africa stems from the Zaire species.
That species caused the world's first known Ebola outbreak in DR Congo in 1976, which until now was the deadliest on record, with 280 deaths.
The current DR Congo outbreak meanwhile is believed to come from two separate species, the Zaire and the Sudan species, which first surfaced in Sudan, also in 1976.
News agencies contributed to this report.