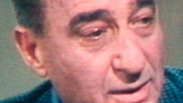 One of Israel's most respected and legendary Mossad agents, Michael (Mike) Harari, has passed away at the age of 87.

Harari was involved in Operation Thunderbolt (Operation Entebbe) in which Israel rescued a large group of hostages held in Uganda's airport by Palestinian terrorists, and Operation Wrath of God, in which Mossad agents killed the terrorists involved in the 1972 massacre of the Israeli Olympic team at the Munich Games.

His role in the latter was immortalized in Steven Spielberg's 2005 film Munich in which he was portrayed by Israeli actor Moshe Ivgy.

Harari was born in Tel Aviv in 1927 and began serving in the pre-state Haganah militia at the age of 13, working as a courier. Two years before Israel's formation he joined the Palmach – the Haganah's elite military forces – where he fought in a number of key battles and was jailed numerous times by the British.




After the State's establishment he joined the Shin Bet, working as head of security for Israel's first airfield in Lod – now Ben Gurion International Airport – and the Foreign Ministry.

He joined the Mossad at 1954, where he first worked abroad to recruit and train agents in Europe and Africa. Harari quickly rose to prominence in the organization, and by 1970 was head of the special operations department – which focused on targeted killings.

During his tenure, he led Operation Wrath of God, which saw one of Israel's most embarrassing failed assassination attempts, known as the Lillehammer affair. The operation was Israel's response to the 1972 Munich Massacre in which 11 members of Israel's Olympic team were murdered by the radical Black September Palestinian terrorist group.

In what became known as the Lillehammer affair, a team of Mossad agents led by Harari went to Norway to kill Ali Hassan Salameh, the mastermind behind Black September's attack, but it later emerged that they killed the wrong man.

In 1979, Salameh was eventually killed by an explosion allegedly placed by a team led by Harari in Beirut, Lebanon.

Three years prior, Harari played a pivotal role in one of Israel's most daring missions, Operation Thunderbolt, in which Israeli commandos landed in Uganda's Entebbe airport to free hostages. Yonatan Netanyahu – Prime Minister Netanyahu's older brother – died during the mission. According to some accounts, Harari, disguised as an Italian businessman, scoped out the airport prior to the mission and helped facilitate the use of Kenyan air bases to refuel planes returning to Israel.

Harari then led the Mossad bureau in South America, where he had controversial ties with Panamanian dictator Manuel Noriega, whom some claim Harari had advised until he was deposed by the US.