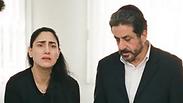 Ronit Elkabetz in 'Gett: The Trial of Viviane Amsalem'
"Gett: The Trial of Viviane Amsalem" won the Best Picture prize for 2014 at the prestigious Ophir Awards ceremony Sunday night and will be Israel's nominee for the Oscars in the Best Foreign Language Film category.

The Ophir Awards are handed out by the Israel Academy for Film and Television.

"Gett," directed by Ronit Elkabetz (who also stars in the lead role) and her brother Shlomi Elkabetz, tell the story of a Jewish woman's five-year fight for a divorce in front of Israel's Rabbinical Court.

"Beyond the huge personal prize, this is a victory for the hard work and spirit of thousands of women in Israel," said Ronit Elkabetz. "There is an intolerable life here, and I hope that this film will raise awareness, that it will open the door and that we will be able to help these chained women, so that no woman has to beg for a man to give her the freedom she deserves."

"Gett" also won the Best Supporting Actor prize, which went to veteran actor Sasson Gabai.

The Best Director award was won by Talya Lavie for "Zero Motivation," which received five additional prizes in the Editing, Screenplay, Casting, Score, and Best Actress categories.

"Zero Motivation" is a comedy which takes place in an army personnel management office in a military base in southern Israel. Nelly Tagar and Dana Ivgy (who took home the Best Actress award) play two female soldiers trying to survive their frustrating military service in an office filled with intrigues.

In addition to the Best Actress award, Dana Ivgy was also named Best Supporting Actress for her role in "Next to Her." Her father, veteran actor Moshe Ivgy, said in response to his daughter's double win: "I have finally made a contribution to the Israeli cinema."