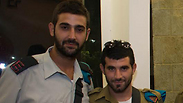 IDF soldiers praised for saving lives
Photo: IDF's Spokesperson's Unit
Outstanding IDF soldiers who saved their comrades' lives under fire and troops who carried out dangerous rescue missions were honored Sunday at a special military ceremony.

GOC Northern Command Major General Yair Golan awarded citations to soldiers and officers who demonstrated resourcefulness during operational activity. Ceretificates of honor were also awarded to four outstanding reserve units in the Northern Command.

Golan handed out awards to three combat soldiers from the Egoz Unit, who were wounded on August 6, 2013, when they were hit by a series of explosive devices in the area of Kibbutz Hanita, near the Lebanese border. During the attack, the force's commander, Major Tamir, was hit by shrapnel in the shoulder, face and inner ear, but continued to lead his soldiers throughout the evacuation of the wounded, which lasted more than three hours.

In the minutes after the explosions, Staff Sergeant Haim placed an emergency tourniquet on one of his wounded comrades, and afterwards helped to evacuate the wounded and even drove them to hospital in Nahariya.

Staff Sergeant Hodael, who suffered wounds to his eyes and face, received a citation after refusing to evacuate and receive medical treatment until the end of the operation.

On behalf of the 36th Armored Division's commander, Brigadier General Itzik Turjeman awarded a citation to Corporal Bahagat Toteri from the "Keren" battalion of the Artillery Corps, who responded quickly and calmly when a terrorist infiltrated an army post north of Jerusalem on October 17, 2013. Toteri's commander, Sergeant Shahar Vaknin, also received a citation for eliminating the terrorist.

"The soldiers on stage who have been awarded citations are heroes. Those who experienced battle, the dry mouth during combat, the adrenalin surge, and the accelerated heartbeat, know what I am talking about. It's not simple to remain calm, it's not simple doing the right thing. The honor and glory are for the heroes, the honor and glory belong to you," said Golan.

Certificates of merit were also awarded to logistic Support Unit 6036 of the "Gaash" Armored Division, Military Infantry Corps 134 of the "Galilee" Armored Division, Military Infantry Corps 5030 of 319th Armor Division and Palsar ("Reconaissance Company") 5351 of "HaBashan" Armored Division.