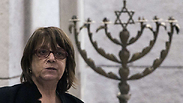 Magda Haroun considers herself the guardian of the Jewish legacy in Egypt
Photo: AFP
On the eve of Jewish New Year 5775, what was once the second biggest Jewish community in the world is on the verge of disappearing.

Until the 1950s, there were around 100,000 Jews living in Egypt. Now, only 12 remain.

"We are dying, we are drowning, we are finished," the elected head of the Jewish community, Magda Haroun, told the BBC.

Community's Legacy

Jews born in Egypt but forced to leave decade after 1948 war tell Egyptian director about peremptory expulsions, rise of anti-Semitism coinciding with Arab-Israeli conflict

According to the report, nothing remains of the once large and glorious Jewish community but a couple of synagogues. The ancient scriptures are just one example of the cultural and religious heritage Haroun feels will be lost forever.

Haroun, who considers herself the guardian of the Jewish legacy in Egypt, says her first duty is to take care of the remaining Jews, "the old ladies which have no family, are alone.

"And my second duty and most important one is these things that will never die," she says, referring to the relics of happier times in the headquarters of the Jewish community in Cairo.

Most of Egypt's Jews were forced to leave in the 1950s and 1960s when the country was at war with Israel and the government suspected that many of them were spies.

For the remaining Jews, a 1,000-year-old Jewish cemetery, now surrounded by slums, is their last resting place.