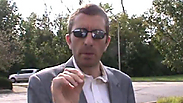 Robert Ransdell. "The time for basic losing is over"
Campaign signs placed on the main roads of Kentucky reading "With Jews We Lose" have generated much controversy in recent weeks for their anti-Semitic language. Standing behind the slogan is write-in candidate for US Senate Robert Ransdell, a former organizer for the neo-Nazi National Alliance.
Ransdell's campaign "seeks to show white people the facts regarding the Jewish role in America's decline", as his website "The White Guard" puts it. The root of problems in America, Rendell writes on the site, is the Jewish population that "controls our media of news and entertainment," as well as "the banks of America and the world". The Jewish people, he adds, also "manipulate and control our government." He vows, however, that "the time for basic losing is over."
In an interview with a local television news station, Ransdell admitted that his chances of beating Senator Mitch McConnell, the Kentucky Republican, are slim, but also said that the campaign will be used to serve as a platform to inform the public of his views.
The Anti-Defamation League revealed in a press release issued last week that the candidate has a rich anti-Semitic past, and stated that in 2006, "he became a member of the neo-Nazi National Alliance."
The Kentucky candidate for the US Senate does not hesitate to use severe anti-Semitic expressions against Jews, whom he says "currently wield" government action "in a hostile manner toward the nation, especially whites in America."
In his speeches, Ransdell has blamed Israel for the deaths of American soldiers in Iraq and Afghanistan, and also slammed the US administration for providing aid to Israel, which he called a "rat's nest".
Meanwhile in Kentucky, voices of opposition against the anti-Semitic candidate have intensified. Television station WLWT reported that numerous residents want the signs and his messages to be removed.
Drea, a local resident who drove by one of his signs placed at US 25 and Mount Zion Road in Florence, spoke with the stations and said that they convey "ignorance. Complete ignorance and hate."
As of now there are about 20 signs in the area of Northern Kentucky, the report further said. "I could drive by it and act like oh whatever it's just some idiot but when does one idiot become 20," Drea told WLWT.