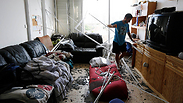 House hit by rocket in south during Gaza op
Photo: Reuters
A draft resolution titled a "multi-year plan for the development of the south" that will be submitted to the cabinet Tuesday was received with shock by residents in several southern regional communities who discovered their hometowns, which came under heavy fire during Operation Protective Edge, were not on the list.

Many council heads expressed their indignation at the fact that while their communities were excluded, councils located more than 25 miles away from the Gaza Strip were included on the list of communities to receive compensation, saying that the decision "smells of politics".

Sigal Moran, Head of Bnei Shimon regional council, was furious when she read the draft proposal. As part of the plan, a transportation center will be built in Dimona, for example, and Mitzpe Ramon and Arad are also included in the development plan.

Moran stated that she is not mad at the inclusion of the additional cities, but rather at the fact that her community was excluded. "They told us not to worry, and that the government would take care of councils located within 4 to 25 miles away," she said.

"From what I see according to the proposal, most of the budget is spent on communities that are 25 miles away. Basic things such as finishing up the installation of rocket protection in education institutes, which they promised us, are not there."

The head of the Merhavim Regional Council was also enraged by the decision. "It appears that the Israeli government has decided to abandon the regional councils," council head Shai Hajaj said. "The decision seems to be political, and communities that weren't under fire during Operation Protective Edge, more than 25 miles away, are receiving benefits. We, residents of the community that was hit by the most rockets during the last war, were abandoned and left behind."

Chairman of the center of regional councils, Shmulik Ripman, said that the proposal ignores those who suffered the most during the war. "Councils whose residents were hit by dozens of Qassam rockets and thousands of sirens, residents who had to miss work to be with their children, are simply being ignored by the State of Israel," he claimed. "There is no doubt that councils that came under fire during the war are entitled to assistance and rehabilitation."