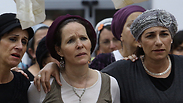 Gil-Ad Shaer, Naftali Frenkel, and Eyal Yifrach's mothers
Photo: Gil Yohanan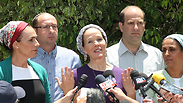 Teens' families
Photo: Avigail Uzi, Yedioth Ahronoth
The families of Gil-Ad Shaer, Naftali Frenkel, and Eyal Yifrach commented on the death of their sons' killers, saying the justice has been served.
"We are proud of our government and security forces for standing firm on the demand that our sons' murderers will meet justice. The world bears witness that Jewish blood is not forsaken," the families said in a joint statement.


In a joint operation with the IDF and Israeli SWAT teams, Shin Bet operatives located and killed Amar Abu-Eisha and Marwan Kawasmeh early Tuesday morning - two of the suspects involved in the kidnap and murder of the three teens in June. Hamas confirmed their deaths and praised the two for a lifetime of "sacrifice".
The Shaer, Frenkel and Yifrah families further wished Israel a happy and safe holiday season, specially praising the "soldiers and SWAT forces who risked their lives to restore Israel's deterrence."
Quoting Psalms 18:37, the families further said: "Let all our enemies know: 'I will pursue my enemies, and overtake them. Neither will I turn again until they are consumed.'"
Prime Minister Benjamin Netanyahu also commented on the killing, saying "I spoke with the teens' parents a short while ago and I told them that nothing with ease their pain and bring back their boys, but there is also the account of justice. We performed the action that we promised to perform."
Netanyahu added, "When we found the bodies I said that whoever carried out the kidnapping and murder has their blood on their own heads. This morning, the mission was completed. We said from the first moment that Hamas was responsible and they even admitted it. I would like to commend the excellent intelligence work of the Shin Bet."
Shmuel Cohen, the grandfather of Gil-Ad Shaer said that, "On a personal level, I never bothered with revenge. I wouldn't risk even a small fingernail of a soldier for revenge."
Cohen added that, "As a Jew and resident of Israel, this has a lot of meaning. The world needs to know that Jewish blood isn't abandoned and whoever harms a Jew has his blood on his own hands. Many thanks to those who put their lives in danger for this goal."
Defense Minister Moshe Ya'alon said that he "hopes the killing will ease the families' pain."
"Let all those who plan to hurt Israeli citizens know that Israel will not rest, we will reach everyone who threatens us and our citizens."
IDF Chief of Staff Lt.-Gen. Benny Gantz also commented on the killing, saying "on the eve of Rosh HaShana (the Jewish new year) Operation Brother's Keeper, which began on June 13th, has ended. We promised the Shaer, Frenkel and Yifrah families we would get the murders of their sons, and this morning we did it."