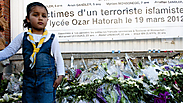 Memorial for victims of Jewish school shooting
Photo: MCT
Three Frenchmen, including the brother-in-law of a Toulouse-based al-Qaeda-inspired gunman who killed seven people in 2012, were arrested on Monday at a Paris airport suspected of having joined Islamic militants in Syria, a French official said.

Around 150 militants who fought with rebel groups in Syria and Iraq have returned to France, requiring "massive" resources for surveillance and other security measures to prevent attacks.

Thousands of Western volunteers have travelled to Syria and Iraq to join Islamist fighters, notably ISIS. The exodus has raised fears in Europe of attacks on their return, particularly after France launched airstrikes on the radical group's targets in Iraq last week.

The three men including the husband of Souad Merah, whose brother Mohamed killed seven people including three Jewish children in March 2012, were arrested at Orly airport in Paris.

The 2012 attack was the worst France has suffered since 1995, when the Algerian Armed Islamic Group bombed a Paris metro station, killing eight people and wounding dozens.

"The three men had been arrested by Turkish authorities at the end of August and had been in Syria since February/March 2013," the source close to the case told Reuters.

They were placed under formal investigation on Tuesday after being sent from Turkey to France. The source did not say why the three men had left Syria.

Interior Minister Bernard Cazeneuve said in May Souad Merah was also likely to have travelled to Syria.

France, a staunch opponent of Syrian President Bashar Assad, has targeted violent cells planning attacks since the Merah attacks.

It fears its intervention in Iraq against Islamic State, where it began air strikes on September 19 could lead to attacks on its interests overseas and at home by militants returning from the Middle East. A group linked to Islamic State on Monday threatened to execute a Frenchman they kidnapped in Algeria on Sunday unless Paris halted its action in Iraq.

Parliament is currently debating tougher anti-terrorism laws that would prevent French nationals from leaving the country.

According to local authorities the number of cases of its nationals involved in jihadi networks in Syria has doubled to almost 1,000 since January 1. Of those about, 110 have been arrested and 74 charged for Syria-related terrorist activity, Cazeneuve said on Monday.

France is already on the highest terrorism threat alert and Cazeneuve on Monday ordered local authorities to strengthen security at key targets after Islamic State directly threatened attacks on France.

"France is not scared," Cazeneuve said. "It is not scared because it is not the first time it has been threatened by terrorist groups."