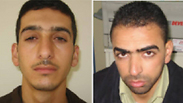 Amar Abu-Eisha and Marwan Kawasmeh
Photo: AP
The Border Guard Spokesperson released a video on Tuesday showing troops firing on the house in which the two suspects in the kidnap and murder of three Israeli teens had been hiding.

The footage shows soldiers climbing a staircase in the building across from the hiding place of the two terrorists, before opening fire on the position.

The suspects in the murder of Naftali Frenkel, Gil-Ad Shaer, and Eyal Yifrach, were killed in a firefight. The IDF has been searching for Amar Abu-Eisha and Marwan Kawasmeh, the two suspects from Hebron, since late June.

Footage of IDF targeting suspects' position (צילום: חטיבת דובר המשטרה)

In a joint operation with the IDF and Israeli SWAT teams, Shin Bet operatives located and killed Amar Abu-Eisha and Marwan Kawasmeh early Tuesday morning. Hamas confirmed their deaths and praised the two for a lifetime of "sacrifice".

According to the official Shin Bet announcement, security forces arrived at the suspected location in the West Bank in an effort to arrest the two men, when a firefight broke out during which both suspects were killed.

Hamas' spokesperson abroad, Hussam Barduan, confirmed the killing, saying "Two members of the Izz ad-Din al-Qassam Brigades, Amar Abu-Eisha and Marwan Kawasmeh, were killed after a long life of sacrifice and giving. This is the way of the resistence and we follow in its wake step after step."

IDF Chief of Staff Lt.-Gen. Benny Gantz also commented on the killing, saying "on the eve of Rosh HaShana (the Jewish new year) Operation Brother's Keeper, which began on June 13th, has ended. We promised the Shaer, Frenkel and Yifrah families we would get the murders of their sons, and this morning we did it."

It was also cleared for publication by the Shin Bet that Bashar Kawasmeh, Mahmed Kawasmeh, and Taar Kawasmeh, the sons of the third suspect, Arafat Kawasmeh, who's already in custody, were arrested overnight.