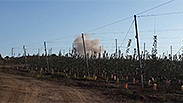 Syrian jet intercepted by Israeli Patriot missile
The Syrian fighter jet's breach of Israeli airspace over the Golan Heights occurred in all likelihood in error. The aircraft was on a reconnaissance mission and may have even been trying to carry out a strike against rebel strongholds in the region, east of the ceasefire line with Israel.
Due to the proximity of the rebel positions to the ceasefire line (the so-called Purple Line), the aircraft strayed a few hundred meters, and maybe even less, west of the border line, and was thereforefired from somewhere in the Galilee.
The interception came in accordance with the Israel Defense Forces' standard response policy in such instances in recent years, in keeping with directives from the defense minister and chief of staff. According to this policy, Israel will not tolerate any infiltration of its territory, and not even the deployment of Syrian tanks and heavy artillery in the Syrian-controlled security zone adjacent to the ceasefire line – all in keeping with the ceasefire conditions signed some 40 years ago, following the 1973 Yom Kippur War.
The IDF sometimes makes do with warnings; however, when it comes to instances of intentional firing into Israeli territory, or cases in which Syrian aircraft cross the ceasefire line, the IDF's standing order is to intercept them. Such was the case several weeks ago when an unarmed aerial vehicle infiltrated Israeli airspace and was shot down by a Patriot missile, which is designed to intercept slow-flying aircraft at low altitudes. And such was the case on Tuesday morning too.
The Israel Air Force's air-defense systems in the north of the country tracked the Syrian fighter jet's flight path from Damascus and towards the Golan Heights; and as it approached ever closer to the ceasefire line, a Patriot battery was put on alert. The missile was fired the moment the jet was seen to breach Israeli airspace, and the aircraft came down on the Syrian side of the Golan.
In recent weeks, one should note, the rebels have taken over the entire Golan Heights area on the Syrian side, including the Quneitra Crossing with Israel; but they have yet to take control of the Daraa-Damascus road, which leads to the Syrian capital. The regime also still holds a position on the slopes of Mount Hermon, in the Druze village of Al-Khadr. The rebels in the area are primarily members of the Jabhat al-Nusra organization, an al-Qaeda affiliate.
The past year has seen dozens of instances in which Israeli fighter jets have been scrambled towards the Golan due to the presence of Syrian aircraft suspiciously close to the ceasefire line in the framework of the Damascus regime's war against the rebels. In some instances, the Syrian aircraft, mostly in the southern part of the Golan Heights, approached to within just a few hundred meters from the border.