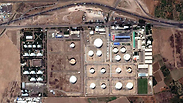 Iranian facilities as seen on Google Maps
Israel said on Wednesday that Iran has used its Parchin military base as the site for secret tests of technology that could be used only for detonating a nuclear weapon.

The Jewish state has been a severe critic of six big powers' negotiations with Iran on restraining its nuclear program, suspecting Tehran is only trying to buy time to master sensitive nuclear know-how and would evade the terms of any final deal.

The Islamic Republic says allegations that it is seeking a nuclear weapons capability are false and baseless. Tehran says it is Israel's assumed atomic arsenal that is a destabilizing threat to the Middle East.

A statement from Intelligence Minister Yuval Steinitz, issued a day before Iranian President Hassan Rouhani - the architect of Tehran's diplomacy with the big powers - was to address the UN General Assembly, said internal neutron sources such as uranium were used in nuclear implosion tests at Parchin.

Related stories:

Israel, his statement said, based its information on "highly reliable information", without elaborating.

It gave no specific dates for such testing, saying only that it occurred during what it called the 2000-2001 construction of a nuclear weaponization test site in Parchin.

An annex to an International Atomic Energy Agency (IAEA) report in 2011, which included information received from member states, indicated that Iran may have conducted such alleged experiments but did not specify where they had taken place.

"It is important to emphasize that these kinds of tests can have no 'dual use' explanation, since the only possible purpose of such internal neutron sources is to ignite the nuclear chain reaction in nuclear weapons," the Israeli statement said.

"Dual use" technology, materials or know-how can be applied to producing either civilian nuclear energy or nuclear bombs.

Iran has long denied UN nuclear inspectors access to the Parchin base outside Tehran where the IAEA has said it has observed, via satellite imagery, ongoing construction and revamping activity.

Western officials believe Iran once conducted explosive tests at Parchin of relevance in developing a nuclear weapon and has sought to "cleanse" the compound of evidence since then.

Iran says Parchin is a conventional military facility, and that the country's nuclear program is for peaceful energy purposes only.

The landslide election of the relatively moderate Rouhani last year raised hopes of a solution to Iran's nuclear stand-off with the world powers after years of rising tension and fears of a new Middle East war.
Israel critical of dialogue with Iran
An interim accord was reached between Iran and the United States, Russia, China, Britain, France and Germany in Geneva last November. But the two sides did not meet a self-imposed July target date for a long-term agreement and now face a new deadline of Nov. 24.

Steinitz's intervention on the alleged Parchin tests issue came against a backdrop of sharp Israeli criticism of the powers' strategy of seeking to remove the risks posed by Iran's nuclear program through negotiations.

In an interview published on Wednesday in the Israel Hayom newspaper, Prime Minister Benjamin Netanyahu said he was "worried ... (by) signs that the powers will agree to accept Iran as a nuclear threshold state".

Israel has said it would better to tighten isolating international sanctions against Iran, rather than loosen some of them as has been done as part of the interim deal. The Jewish state has also threatened to bomb the nuclear installations of its arch-enemy if it deems the negotiations ultimately futile.

The IAEA report in 2011 cited intelligence indicating Iran had a nuclear weapons research program that was halted in 2003 when it came under increased international pressure. The intelligence suggested some activities may have resumed later.

The report identified about 12 specific areas that it said needed clarification, including alleged work on a neutron initiator that could be used to trigger an atomic explosion, and explosive tests at Parchin.

The information was in part based on information received from IAEA member states. The Vienna-based UN agency did not name them but experts and diplomats say much of it is believed to come from Israel and Western powers.

Iran has dismissed the allegations as fabricated.

While the six powers seek to limit the size of Iran's future nuclear program - and thereby extend the time it would need for any bid to amass fissile material for a weapon - the IAEA is investigating alleged research and experiments in the past that could have been applied to constructing the bomb itself.