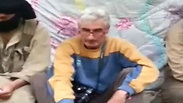 The French citizen killed in algeria.
Algerian extremists allied with the Islamic State group have decapitated a French hostage after France carried out airstrikes in Iraq, according to a video that appeared online Wednesday.

French President Francois Hollande condemned the killing of Herve Gourdel and said France would continue its fight against the Islamic State group, which are Sunni militants that have taken over large swaths of Iraq and Syria.

"Herve Gourdel is dead because he is the representative of a people - ours - that defends human dignity against barbarity," Hollande said, speaking along the sidelines of the UN General Assembly meeting in New York. "My determination is total and this attack only reinforces it. We will continue to fight terrorism everywhere."

A group calling itself Jund al-Khilafah, or Soldiers of the Caliphate, had said they would kill the French mountaineer after abducting him Sunday unless France ended its airstrikes against Islamic State fighters in Iraq within 24 hours.

France started airstrikes in Iraq on Friday, the first country to join the US military campaign against Islamic State fighters there.

The killing of a hostage represents a departure for radical Islamic groups in Algeria, which in the past decade have made millions off ransoming hostages. France is also known for paying ransoms, though several hostages have died in the past at the hands of their captors.

In the video, masked gunmen from the newly formed group that split away from al-Qaeda's North Africa branch stood over a kneeling Gourdel. They pledged their allegiance to the leader of the Islamic State group, Abu Bakr al-Baghdadi, and said they were fighting his enemies. They added they were following his instructions to attack the French.

The video showed the captive pushed to the ground and blindfolded before he was beheaded.

Islamic extremists have long singled out France as a special target for multiple reasons: the French military campaign against al-Qaeda-linked militants in Mali, the French involvement in the NATO force in Afghanistan and French laws banning the Muslim face veil in public and banning Muslim headscarves in public buildings.

Nearly 1,000 French radicals have joined or are trying to join the Islamic State group in Syria and in Iraq - more than the number of fighters from any other Western country. French authorities are particularly concerned that they will return and stage attacks at home.

The video resembled those showing the beheadings of two American journalists and a British aid worker in recent weeks, but instead of starting with clips of President Barack Obama speaking, it showed Hollande.

The terrorism watchdog SITE Intelligence Group said the video had been posted on the social networking site Twitter. It was briefly available on YouTube before being taken down.

"Our values are at stake," French Prime Minister Manuel Valls said Wednesday after hearing about the video.

Gourdel - a 55-year-old mountaineering guide from Nice - was seized in the Djura Djura Mountains of northern Algeria on Sunday during a hiking trip. His Algerian companions were released. On his Facebook page he had expressed his excitement about his camping trip and said he was looking forward to being shown around for a change, instead of being the guide.

The remote mountainous region, riddled with steep valleys and deep caves, however, is also one of the last strongholds of Islamist extremists in northern Algeria.

Algerian forces unleashed a massive search for Gourdel, sending in helicopters and Special Forces to comb the region.

According to a presidential aide, Hollande has spoken with his family. Gourdel's hometown in southern France is planning a vigil Thursday at the mountaineering office where he worked.

The head of a leading French Muslim group, Dalil Boubakeur expressed horror at the "this barbaric crime," condemning it "with the utmost energy." The group has called for imams to denounce the Islamic State group's practices.

Algeria has been fighting Islamic extremists since the 1990s. In recent years they had been largely confined to a few mountainous areas, where they have concentrated on attacking soldiers and police while leaving civilians alone.