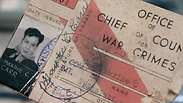 Maxine C. Carr's trunk full of Nazi trinkets
Photo: AP
The old trunk was locked when it was found by auction house workers clearing a long-vacant home in Alaska that was about to be listed for sale.

The collection crew's members couldn't find the key, so they broke the lock. Inside were yellowed papers and blankets. Personal stuff, they figured.




Only back at the warehouse of Anchorage-based Alaska Auction Co. did they discover carbon copies of transcripts from the Nuremberg war-crimes trials.

They also found a staff directory for the multinational tribunal that prosecuted scores of Nazi masterminds in those infamous trials, a translated letter to Nazi faithful that signs off with "Heil Hitler" and personal credentials and correspondence belonging to a lowly postwar stenographer who squirreled the mementos away for decades.

The late Maxine C. Carr's small collection is the featured lot in an auction of World War II relics scheduled to take place on Saturday.

"It was chilling, very chilling going through that paperwork. Very unsettling," said Christine Hill, who has owned the auction house with her husband, Duane, for 30 years.

The Carr collection is being auctioned as one lot, with no minimum bidding set. Several other private collections of mementos from that era also are being auctioned and include Nazi arm bands, German and Russian medals, and a tiny Hitler propaganda booklet. There also are plenty of Alaska artifacts, such as ivory carvings, old photographs, even black bear and coyote head mounts.

Little is known about Carr's time in Alaska, although a state fishing license was issued to her in 1951, when she was 29 years old. While in Alaska, she eventually used her married name, Maxine Sud, according state records. Carr died at least a decade ago, but it's not clear exactly when she passed away.

Her 91-year-old widower, Chand Sud, lives in an Anchorage assisted living facility. Through the auction house, he declined to comment to The Associated Press.

Hill said the widower was surprised to learn about the documents, although he knew of her Nuremberg past.

An old undated news article found among his wife's possessions says Maxine Carr worked for 32 months on the International Military Tribunal staff in Nuremberg.

In November 1945, the landmark Nuremberg trials began. Twelve of the 23 defendants, including Hitler aide Hermann Goering, were sentenced to death.

Almost seven decades after the war, many institutions, including the Harvard Law School Library, have extensive collections of Nuremberg trial documentation, said Ed Moloy, curator of modern manuscripts at the Harvard library. While the Carr collection is interesting, it's likely not particularly unique, he said.

But it might appeal to a private collector who wants such documents that are not already housed in a repository such as the Harvard library, which has 600 linear feet of Nuremberg documents.

"It's very possible that people like Miss Carr, who was part of this pool of civilians working to support the trials, ended up with extra copies or something and saved them for souvenirs," Moloy said. "That's what I would assume this collection is."

Last year, other Nuremberg documents surfaced in Israel at a flea market in Tel Aviv. That 500-page trove eventually ended up at auction, too, where they sold for a price tag in the $10,000 range.

Personal correspondence found in the trunk also hints of dissatisfaction with her position as a clerk-stenographer with the Civil Aeronautics Administration for war-training service before the war trials started. Carr received a job rating of "fair" in 1944, and she filed an unsuccessful appeal to the Civil Service Commission to amend the evaluation to "very good."

"I performed a great deal more work than any other girl assigned to the same type of position, and I certainly believe that I should receive a higher rating than "Fair" for work completed, especially considering the unfavorable circumstances under which I had to work," Carr wrote.

In a May 1945 letter from the Efficiency Rating Board of Review, the board chair said Carr "had not altogether convincingly rebutted" her supervisors' work appraisals.