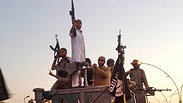 Islamic State militants in Iraq
Photo: AP
Iraq has received "credible" intelligence that Islamic State militants plan to launch attacks on subway systems in Paris and the United States, Iraqi Prime Minister Haider al-Abadi said on Thursday.
"Today, while I am here, I am receiving accurate reports from Baghdad where there was (the) arrest of (a) few elements and there are networks planning from inside Iraq to have attacks," he told a small group of US reporters, speaking in English. "They are not Iraqis. Some of them are French, some of them are Americans. But they are in Iraq."
"They plan to have attacks in the metros of Paris and the US," he added. "I asked for more credible information. I asked for names. I asked for details, for cities, you know, dates. And from the details I have received, yes, it looks credible."
Al-Abadi said the suspects included extremists from the United States and France who were fighting for the Islamic State group in Iraq. Asked if the attack was imminent, he said, "I'm not sure." Asked if the attack had been thwarted, he said, "No."
US: No evidence to support Iraqi claims
Al-Abadi said the United States had been alerted, but US government security officials told Reuters the United States has no evidence to back up the Iraqi claim.
In the past, the United States had received threats that various militant groups were targeting such transportation systems but there is no recent information about an imminent plan by Islamic State, one official said, speaking on the condition of anonymity.
A separate source in Congress said lawmakers and staff had not been briefed on any current Islamic State threats against subways in US cities.
A National Security spokesman also said the White House was not aware of a specific plot by Islamic State militants to attack American and French subway systems.
"We've seen the reports of Prime Minister Abadi's comments," Caitlin Hayden, the spokeswoman, said in statement. "We have not confirmed such a plot, and would have to review any information from our Iraqi partners before making further determinations."
Meanwhile the New York Police Department said it was "aware" of the Iraqi claims, and was "in close contact with the FBI' about the threat.
"We are in close contact with the FBI and other federal partners as we assess this particular threat stream," said John Miller, deputy commissioner for intelligence and counterterrorism at the New York City Police Department. "New York City normally operates at a heightened level of security and we adjust that posture daily based on our evaluation of information as we receive it."
New York Governor Andrew Cuomo also said he was aware of a report of potential threats to US subway systems and that authorities had already begun to beef up security at New York City mass transit sites before the latest warning.
"I want to assure the people of New York that we are monitoring these reports closely and are in close communication with officials in Washington," Cuomo said in a statement.
A spokesman for the Washington Metro Area Transit Authority also said there was no specific or credible threat against Washington's area rail or bus systems.
"We are aware of the reporting out of the Middle East," spokesman Dan Stessel said in an email. "Based on the information we have at this time, there remains no specific or credible threat against the Metrorail or Metrobus systems."
Earlier on Thursday, France said it would increase security on transport and in public places after a French tourist was killed in Algeria, and said it was ready to support all states that requested its help to fight terror.
The Islamic State extremists' blitz in Iraq and Syria prompted the United State to launch airstrikes in Iraq last month, to aid Kurdish forces who were battling the militants and to protect religious minorities.
In addition to the brutality Islamic State has visited on the people in Iraq and Syria, western leaders have voiced concern that the group would move its terror operations outside the region.
This week, the US and five allied Arab states expanded the aerial campaign into Syria, where the militant group is battling President Bashar Assad's forces as well as Western-backed rebels.
Reuters and the Associated Press contributed to this report.