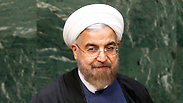 Iranian President Hassan Rouhani
Photo: EPA
Diplomats say the US is considering softening demands that Iran gut its uranium enrichment program in favor of letting Tehran keep nearly half of it intact but placing other constraints on its possible use as a path to nuclear weapons.

Ideally, the US wants no more than 1,500 centrifuges enriching. Iran insists it wants to use the technology only to make reactor fuel and demands it be allowed to run at least the present 9,400 machines.

Related stories:

The tentative new offer envisages letting Iran keep up to 4,500 centrifuges but would cut the stock of uranium gas fed into the machines to where it would take more than a year of work to create enough material for a nuclear warhead.

The diplomats demanded anonymity Thursday because their information is confidential.

Iranian President Hassan Rouhani on Thursday said the nuclear issue "could only be resolved through negotiation, and those who may think of any other solution are committing a grave mistake."

The Iranian president said negotiations between Tehran and world powers have been conducted with "seriousness and optimism" on both sides, and expressed hope a final accord would be reached until the November deadline.

Encouraging "compromise and agreement," Rouhani said the prerequisite of success in reaching a peaceful resolution to the nuclear dispute is the "strict implementation of commitments and avoidance of excessive demands by our counterparts."

The Iranian president claimed his country was "committed to continue our peaceful nuclear program, including enrichment, and to enjoy our full nuclear rights on Iranian soil within the framework of international law."

Recent reports have indicated the United States and Iran were holding talks on possible collaboration in the fight against the Islamic State. Iran's Supreme leader Ayatollah Ali Khamenei has ruled out such cooperation, while US Secretary of State John Kerry denied it.

In his speech, Rouhani noted that "a final accord can serve as the beginning of multilateral collaboration aimed at promoting security, peace and development."

But for this cooperation to happen, the West must first remove the sanctions it imposed against Iran, Rouhani said.

"The people of Iran can't place their trust in any security cooperation between their government and those who have imposed sanctions," he said.