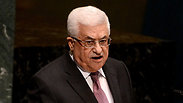 Abbas at a previous vist to the UN.
Photo: EPA
Palestinian President Mahmoud Abbas addressed the UN General Assembly Friday afternoon saying that Israel was planning another "Nakba" and committed acts of genocide in Gaza, but stopped short of saying he will pursue war crime charges against it at the International Criminal Court.
Abbas mainly focused his speech on the recent bout of fighting in Gaza and the Palestinian desire for a nation state and said he will seek a UN resolution to set a deadline for Israel to pull out of Palestinian lands captured in the 1967 war. He included no deadline for ending the occupation.
Abbas at the UN General Assembly. (צילום: רויטרס)
"The Israeli government undermined chances for peace throughout the months of negotiations," said Abbas regarding the failed 9-month-long peace process undertaken before the latest violence in Gaza. "Israel has consistintely sought to fragment our land and our unity."
"This last war against Gaza was a series of absolute war crimes carried out before the eyes and ears of the entire world, moment by moment," Abbas said. The devastation unleashed, he said, "is unmatched in modern times."
Related stories:
Foreign Minister Avigdor Lieberman had a reply to Abbas' speech Friday saying that, "Abu Mazen's (Abbas') words at the UN General Assembly sharply clarify again that Abu Mazen doesn't want and can't be a logical partner for a political settlement. Abbas isn't a member of joint government with Hamas for no reason."
The recent Gaza war killed 2,100 Palestinians and has weakened Abbas domestically, with his Hamas rivals enjoying a surge of popularity among Palestinians for fighting Israel. Sixty-six soldiers and six civilians were killed on the Israeli side.
He is under pressure at home to come up with a new political strategy after his repeated but failed attempts to establish a Palestinian state through US-mediated negotiations with Israel.
Aides had said he would seek a three-year timetable, adding that a UN rejection of the Palestinian request would prompt Abbas to seek membership in international agencies, including the ICC.
That would open the door to war crimes charges against Israel for its military actions in Gaza and Jewish settlement construction on West Bank land the Palestinians want for a future state.
However, Abbas' speech appeared markedly less dramatic than what his aides were saying earlier this week.
He said "we will not allow war criminals to escape punishment" but made no mention of the ICC.
Abbas met with US Secretary of State John Kerry Tuesday in New York and expressed little optimism his UN bid would survive a Security Council vote. The United States will almost certainly veto such a measure, having said the only resolution to the Israeli-Palestinian conflict is through direct negotiations between the two sides.