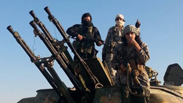 Islamic State militants in Syria
Photo: AP
Although more and more nations have agreed to join the coalition against Islamic State militants, a victory over the terrorist group is not in near sight.
"This is going to be a mission that will take not just months but years," admitted British Prime Minister David Cameron on Friday when he convinced members of parliament that Britain should join US-led airstrikes against the Islamic State in Iraq. The motion reaffirmed American officials' estimates that the battle is not going to end anytime soon.
However, the United States has reason to be positive: not only Britain, but the Netherlands, Belgium and Denmark have also said they would join the air campaign in Iraq against the Islamic State. The White House said in a statement that it welcomed the countries to the coalition.
Related stories:
"These decisions — along with those by Saudi Arabia, Jordan, the United Arab Emirates, Bahrain, and Qatar to participate in airstrikes against IS in Syria — demonstrate the clear commitment of the international community to take action together against these terrorists," the statement read.
Britain is expected to deploy Tornado GR4 aircraft, a handful of which are in Cyprus, within striking distance of northern Iraq.
The Tornados give the coalition an enhanced ability to hit moving targets with the use of the Dual Mode Brimstone missile, said Ben Goodlad from IHS Jane's. He said the weapons have a particular ability to hit convoys and fleeing targets.
Despite the fact that more countries have joined the anti-IS coalition, no European nation has yet agreed to join the US and some Arab states in strikes in Syria, where airstrikes against Islamic State targets entered their fourth day on Saturday.
The US military said its planes blew up four Islamic State tanks in eastern Syria and hit a number of targets in Iraq.
More than a month since the US military began striking Islamic State targets in Iraq there are signs fighters are lowering their profile in areas they control to become a harder target.
Meanwhile, General Martin Dempsey, chairman of the US Joint Chiefs of Staff, said this week's strikes in Syria had disrupted Islamic State's command, control and logistics capabilities.
But Dempsey said a Western-backed opposition force of 12,000 to 15,000 would be needed to retake areas of eastern Syria controlled by the militants. US assessment teams have arrived in Saudi Arabia to map out a program expected to train more than 5,000 opposition fighters in the first year.
"We have to do it right, not fast," Dempsey said.
The air campaign has yet to halt Islamic State's advance in Syria, where fighters have laid siege to a Kurdish town on the Turkish border, sending 140,000 refugees across the frontier since last week in the fastest exodus of the three-and-a-half-year-old civil war.
Al-Qaeda pressured to join Islamic State
Al Qaeda's affiliate in Syria, the Nusra Front, is facing mounting pressure from its own members to reconcile with its rival Islamic State and confront a common enemy after US-led air strikes hit both groups this week.
But that move would require pledging loyalty to Islamic State, which has declared a caliphate in territory it controls in Iraq and Syria, which would effectively put an end to the Nusra Front, fighters in the group say.
Nusra, long one of the most effective forces fighting Syrian President Bashar al-Assad, was weakened this year by battles with Islamic State, an al Qaeda splinter group that routinely employs ruthless methods such as beheadings and mass executions.
The two share the same ideology and rigid Islamic beliefs, but fell out during a power struggle that pitted Islamic State head Abu Bakr al-Baghdadi against al Qaeda chief Ayman Zawahri and Nusra Front leader Abu Mohammad al-Golani.
But US-led air and missile strikes, which have hit Nusra as well as Islamic State bases in Syria, have angered many Nusra members who say the West and its allies have joined forces in a "crusader" campaign against Islam.
Sources close to Islamic State said some Nusra fighters were joining them after the strikes and there was a growing sense among many that it was time to put their differences aside.
"There are hardline voices inside Nusra who are pushing for reconciliation with Islamic State," a source close to Nusra's leadership told Reuters, though he doubted it would happen.
"I know Golani. He would never reconcile with Islamic State. If he ever does it, it would be in a direct order from the leadership, and that is Zawahri himself."
However, one Islamic State fighter said he believed there was an "80 percent chance that the brothers of Nusra will join the State".
The Syrian Observatory for Human Rights, a Britain-based monitoring group, said on Friday over 200 fighters had joined Islamic State in the northern Aleppo area, many from the Nusra Front, since US President Barack Obama said he was prepared to strike the group in Syria.
AFP and Reuters contributed to this report.