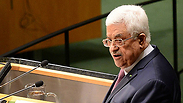 Abbas addressing the General Assembly Friday
Photo: AFP
The United States on Friday condemned Palestinian Authority President Mahmoud Abbas's speech at the United Nations, in which he accused Israel of planning another "Nakba" and committing acts of genocide in Gaza during Israel's Operation Protective Edge.
"President Abbas' speech today included offensive characterizations that were deeply disappointing and which we reject," State Department spokeswoman Jen Psaki said. "Such provocative statements are counterproductive and undermine efforts to create a positive atmosphere and restore trust between the parties."
Abbas at the UN General Assembly, Friday (צילום: רויטרס)
Senior officials in Prime Minister Benjamin Netanyahu's office denounced the allegations as "a speech of incitement filled with lies."
In the speech, Abbas called the previous round of fighting against Gaza "a series of absolute war crimes carried out before the eyes and ears of the entire world, moment by moment." The devastation unleashed, he asserted, "is unmatched in modern times."
He further stated that "the Israeli government undermined chances for peace throughout the months of negotiations," referring to the failed 9-month-long peace process undertaken before the latest violence in Gaza. "Israel has consistently sought to fragment our land and our unity."
Foreign Minister Avigdor Lieberman also commented on Abbas' speech Friday saying that, "Abu Mazen's (Abbas') words at the UN General Assembly sharply clarify again that Abu Mazen doesn't want and can't be a logical partner for a political settlement. Abbas isn't a member of joint government with Hamas for no reason."
The Foreign Minister said that "Abbas complements Hamas in his political terrorism and storytelling against Israel. So long as he's chairman of the Palestinian Authority, Abbas will lead to the continuation of the conflict. He has proved time and again that he is not a man of peace, but rather Arafat's heir."
In the same speech, Abbas did not offer his own deadline for an Israeli withdrawal, as some had predicted, nor did he say anything about joining the International Criminal Court as his aides have repeatedly said he is prepared to do.
And while he signaled he would seek accountability for alleged war crimes by Israel against Palestinians during this summer's 50-day war in Gaza, he made no mention of taking the case to the International Criminal Court.
"We will not forget and we will not forgive, and we will not allow war criminals to escape punishment," Abbas said in his 30-minute address.
The devastating war has weakened Abbas domestically, with his Hamas rivals enjoying a surge of popularity among Palestinians for fighting Israel.
He is under pressure at home to come up with a new political strategy after his repeated but failed attempts to establish a Palestinian state through US-mediated negotiations with Israel.
Before Friday's speech, his aides had said he would launch a new bid for a UN Security Council resolution to set a three-year timetable for Israel to pull out of Palestinian lands captured in the 1967 war. They added that a UN rejection of the Palestinian request would prompt Abbas to seek membership in international agencies, including the International Criminal Court.
That would open the door to war crimes charges against Israel for its military actions in Gaza and Jewish settlement construction on West Bank land the Palestinians want for a future state.
Associated Press contributed to this report