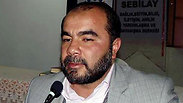 A member of the IHH, designated a terrorist organization by Israel, was killed killed during US airstrikes in Syria on Tuesday according to Turkish reports, after having made the leap from attacking Shayetet 13 elite commandos on the Marmara flotilla in 2010, to serving the will of Islamic State (ISIS) militants accused of committing atrocities during a swift military advance across the Middle East.

Ya'akov Bolinet Alniak, a well-known figure within the IHH, even wrote a book about the violent incident aboard the Marmara that was boarded by Shayetet commandos as it tried to run the Israeli blockade on Gaza. Nine of those aboard the ship were killed in the ensuing violent clashes and Alniak was apparently one of those who were directly engaged in attacking the Israeli troops.

According to the Turkish reports, Alniak, father of two, joined the ranks of ISIS recently and was directly involved in combat in Syria. One of his last Facebook posts before being killed in US strikes on an ISIS camp in Syria read, "My life and death are for Allah".

Related stories:

Spokesperson for the Foreign Ministry Emanuel Nahshon called the reports, "a direct line that connects the extremists of the IHH organization to the murderers in ISIS. He who tried to harm IDF soldiers found himself a career as an executioner in the service of extremist Islam."

The US military, in cooperation with Qatar, Saudi Arabia, Jordan, the United Arab Emirates, and Bahrain, began attacking ISIS targets in Syria last Tuesday. By Friday, it was reported that some 150 fighters from ISIS and the al-Nusra Front were killed in the American strikes in Syria, most of which weren't Syrian citizens.

Kurdish sources reported yesterday along with a UK based human rights organization that coalition jets had attacked ISIS forces near the northern city of Kobane for the first time. The city, close to the Syria-Turkey border, faces continuous attacks from ISIS militants who've apparently been employing heavy weaponry including tanks and artillery in the area. Reports indicated that 23 fighters were killed in the air strikes.