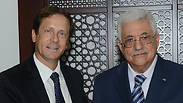 "You can criticize Abbas, but at the end of the day, we prefer and the Palestinian Authority taking responsibility of Gaza, and we prefer Abbas and the PA's full security cooperation in the West Bank," Opposition Chairman Isaac Herzog told Ynet on Sunday.

The Labor party chairman blamed Prime Minister Netanyahu's government for the current state of affairs between Israel and the Palestinians. Before leaving for New York, Netanyahu harshly criticized Abbas' speech to the UN General Assembly.

"In my UN General Assembly speech and in all of my meetings I will represent the citizens of Israel and will – on their behalf – refute the slander and lies directed at our country," he said.

Herzog interview (in Hebrew):

Opposition Chairman Herzog speaks to Ynet (in Hebrew) (צילום: אסי כהן חגי דקל)

Palestinian President Mahmoud Abbas addressed the UN General Assembly Friday afternoon saying that Israel was planning another "Nakba" and committed acts of genocide in Gaza, but stopped short of saying he will pursue war crime charges against it at the International Criminal Court.

Abbas mainly focused his speech on the recent bout of fighting in Gaza and the Palestinian desire for a nation state and said he will seek a UN resolution to set a deadline for Israel to pull out of Palestinian lands captured in the 1967 war. He included no deadline for ending the occupation.