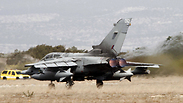 RAF Tornados in Cyprus.
Photo: AFP
As coalition air power led by the United States pounds Islamic State (ISIS) targets in Iraq and Syria, a behind the scenes struggle against the terror group rages just as fiercely, with British MI6 operatives holding secret negotiations with Syrian government representatives, according to a Saturday report in the Mirror.

"It may be there are no face-to-face meetings with Assad himself, but behind the double-speak of foreign relations it is perfectly normal for them to see his senior people," a source told the Mirror. "It would be staggering if Britain's intelligence agencies were not talking to Assad's people."

The Mirror report suggested that cooperation would most likely focus on the UK's attempts to acquire key intelligence held by the Assad regime regarding the whereabouts of British citizens being held hostage by ISIS.

"The talks they have within Syria are of invaluable benefit to Britain's security," the source told the Mirror.

Related stories:

This comment suggested deeper involvement that may go beyond bare intelligence on hostages. Other points of cooperation according to the Mirror may include assuring that Syria doesn't employ its formidable air defense systems during coalition led air strikes against ISIS targets.

"It makes sense that MI6 would try to make inroads with Assad by talking to his people, first through proxy channels like other nations, but then directly," added the source.

This creates a contradictory picture however, to that presented in public by Britain's key politicians. Foreign Secretary Philip Hammond expressed the government's vehement opposition to working with the Assad regime, whom the West considers responsible for Syria's brutal civil war which has seen the use of chemical weapons and over 200,000 deaths in years of drawn-out fighting.

Hammond said that any agreement with Assad would be "poisonous" while suggesting that such a deal would hardly be "practical, sensible or helpful".

But, said the source, "Syria is the crucible from where IS is spreading and attracting foreign fighters, hundreds of them British." The issue of foreign recruitment may indeed give justification to some to negotiate with Assad.

"The UK has a huge stake in its future not least because these battle-hardened fighters may try to return to Britain and visit great harm on civilians," said the source.

Just this last week the British House of Commons approved a move by Prime Minister David Cameron to allow for Royal Air Force strikes to begin in Iraqi territory against ISIS fighters. During the debates, many MPs expressed concern for what they said was the inevitable return to the House for a vote on how and when to begin strikes in neighboring Syria as well.