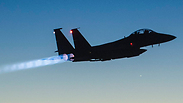 US Air Force F-15
Photo: AP
Airstrikes likely carried out by a US-led coalition struck an oil refinery in Syria held by the Islamic State group Sunday, a witness said, shaking buildings and sending flames shooting into the air near the Turkish border.

Explosions lit the sky "for two hours" at the refinery in the northern Syrian town of Tel Abyad around 2:30 am local time, local businessman Mehmet Ozer said.

"Our building was shaking and we saw fire, some 60 meters high, coming from the refinery," said Ozer, who lives in the nearby Turkish town of Akcakale.


US Central Command, which is overseeing the operation against the Islamic State group, did not immediately comment on the strikes. A US-led coalition has been targeting oil installations controlled by the militants, aiming to crippling the Islamic State group's finances, estimated to earn some $3 million a day.

The United States and five Arab allies launched an aerial campaign against Islamic State fighters Tuesday with the aim of rolling back and ultimately crushing the extremist group, which has created a proto-state spanning the Syria-Iraq border. In seizing territory, the Islamic State group has chased out tens of thousands of Syrians and Iraqis who belong to minority groups and has imposed their harsh interpretation of Islamic law on residents, including whipping and chopping off the hands of criminals.

The Islamic State group has held Syrian activists and international aid workers and journalists captive, and most recently beheaded a British aid worker and two American journalists.

Some European countries also are contributing to the US' efforts in targeting the Islamic State group in Iraq, including France, the Netherlands, Denmark, Belgium and Britain.

The coalition's efforts to strike at oil refineries is expected to be a long, slow task as most of the refineries held by the Islamic State group are small and scattered across their territory.

The Britain-based Syrian Observatory for Human Rights reports that at least 13 civilians have been killed so far in coalition strikes. Overall, some 190,000 people have been killed in Syria's war, and nearly one-half of the country's pre-war population of 23 million people has been displaced.