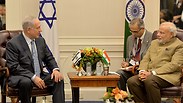 Netanyahu and Modi
Photo: GPO
Prime Minister Netanyahu met with his Indian counterpart, Narendra Modi, late Sunday in New York, ahead of his Monday night speech at the UN General Assembly – the first such meeting in more than ten years.

The two prime ministers both appeared upbeat as they met at a New York hotel on the sidelines of the General Assembly, where Modi is making his first visit since he led his Hindu nationalists to a sweeping victory in April-May elections.

Netanyahu said he was "delighted" to meet Modi and invited him to visit Israel, in what would be a first for an Indian prime minister.

Netanyahu and Modi discussed security and development matters. India, like its neighbor China, is one of the two largest importers of Iranian oil. Following the international sanctions imposed on Tehran, India reduced the amount of oil imported from Iran; Netanyahu emphasized to Modi the threat imposed by a nuclear Iran.

The two leaders also discussed the threat of Islamic terror, after al-Qaeda leader Ayman al-Zawahiri recently announced the establishment of a new jihadi delegation to the Indian subcontinent.

Netanyahu and Modi meeting in New York

"I believe that if we work together, we can do so with benefits for both our peoples and well beyond," Netanyahu said during a brief press interaction during the meeting.

"We are very excited by the prospects of greater and greater ties with India. We think the sky's the limit," Netanyahu said, describing the countries as "ancient civilizations" that are also democracies.

Modi echoed Netanyahu's sentiment. "I agree with you that the ties between Israel and India are historic ties."

He told Netanyahu of the historic Jewish community in India. "India is the only country where anti-Semitism has never been allowed to come up and where Jews have never suffered and have lived as an integral part of our society."

New Delhi only established relations with Israel in 1992, a delay often attributed by analysts to potential concerns within India's Muslim minority and the developing nation's need to preserve relations with wealthy Arab states.

But India quickly developed relations with Israel during the last government of Modi's Bharatiya Janata Party, which emphasizes Hindu identity. In 2003, Ariel Sharon paid the first visit by an Israeli prime minister to New Delhi.

The left-leaning Congress party that took power in 2004 took a greater distance from Israel, despite meetings at the ministerial level. Nonetheless, two-way trade has soared from $200 million in 1992 to $6 billion, according to New Delhi's figures, and India has been an alluring market for Israel's defense industry.

Israel was one of the few countries visited by Modi before his election as prime minister.

Despite his hawkish reputation, Modi surprised observers by meeting widely with foreign leaders since his election, including Pakistani Prime Minister Nawaz Sharif and Chinese President Xi Jinping.

But Indian officials said that Modi had no plans to meet in New York with Palestinian president Mahmud Abbas.

Modi was leader of the state of Gujarat when anti-Muslim riots killed more than 1,000 people in 2002. He was never charged and denies wrongdoing, but the episode led the United States to deny him a visa in 2005.

AFP contributed to this report.