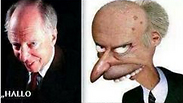 BERLIN - A new German party that recently won seats in several regional legislatures is moving to expel an official accused of posting an anti-Semitic cartoon on his Facebook page.

The Alternative for Germany, or AfD, party's branch in eastern Brandenburg state said Monday it decided to start expulsion proceedings against Jan-Ulrich Weiss.

He already was excluded from the party's newly elected 11-member caucus in the state legislature, with regional AfD leader Alexander Gauland accusing Weiss of posting a caricature in the style of Nazi newspaper "Der Stuermer."

The post by Weiss, which includes a caricature of Rothschild as The Simpsons' ruthless billionaire Montgomery Burns, read:

"Hello.

My name is Jacob Rothschild.

My family is worth more than 500 trillion dollars.

We have almost every central bank in the world in possession.

We have funded both sides of every war, since Napoleon.

We control your news media, your oil, and your government.

You've probably never heard of me."

AfD, launched last year, initially focused on an anti-euro stance and has expanded its platform to appeal to protest voters with tough talk on crime and immigration. Some opponents accuse of it of doing too little to distance itself from far-right sympathizers.